Have a Holly Jolly Holiday with These Holiday Season Pro Tips
December 7, 2017
Beth Burgee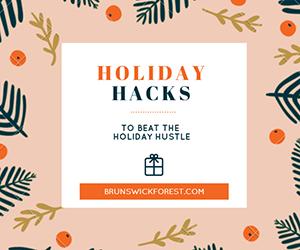 It's the most wonderful time of the year…  Well, it's supposed to be anyway, but the spirit of the season can easily get lost in the holiday hustle.  Use these Brunswick Forest recommended pro tips to put the holly jolly back in your holiday!
Pack your holiday decorations and supplies effectively.  A lot can be accomplished in the simple way you pack-up and store your holiday wares.  It may be to late for this year, but follow these tips for next year:
Make a clear path to your holiday decor.  If you're utilizing attic space, create zones for each holiday you celebrate and create clear walkways to access these items.
Wrap lights around plastic coat hangers.
Group like-items together and label.  If it is for your holiday tablescape, pack those items together.  If it is for your family room, package those things together.
Take pictures of how you decorated your home; pack them with your holiday decor; and use them as a guide for next year.
Now that your decorations are out, use these Holiday Hacks to make decorating a cinch:
Is your tree looking a little thin this year?!  Give it some extra fluff by adding tinsel or garland where it's looking a little bare.
Gingerbread cookies double as tasty treats and adorable ornaments.  So if you're making a batch, you might as well add some to the tree.
Decorating always goes faster and is much more enjoyable when you add music.  Cue up some festive tunes or holiday favorites to pass the time.
Command Hooks, Command Hooks, Command Hooks — they are your best friend when it comes to decorating your home and not leaving a permanent mark.
Don't under-estimate the candy cane.  Use them as treats, ornaments or place card holders.
Items you already have around your home can double as holiday decor.  Use an over-sized scarf as a table runner.  Make a beloved blanket your tree skirt.  Add holiday-themed quotes to a chalkboard.  Go foraging around your yard for pine cones, holly and magnolia leaves — these make the perfect decorations.
Need the perfect gift, but don't have the time?!  These sites are the best time-savers you could ask for:
Amazon – Knock out your list in one fell swoop!  There is guaranteed to be something for everyone.  You can cost-compare and find the best deal.  They offer a 30-day free Amazon Prime membership that comes with FREE SHIPPING — just in time for the holidays.
Buzzfeed – Use their Holiday Gift Guides to find the perfect gift in a pinch.  Plus, they have links within the guide to where you can purchase these proven winners.
Gift Finder – Use their personality test to reveal the best gift for that special someone in your life.  Then, order right from their site!
Stay tuned for more life hacks from your friends at Brunswick Forest!
www.brunswickforest.com
888.371.2434