Greater Wilmington is Back for Summer: Local Happenings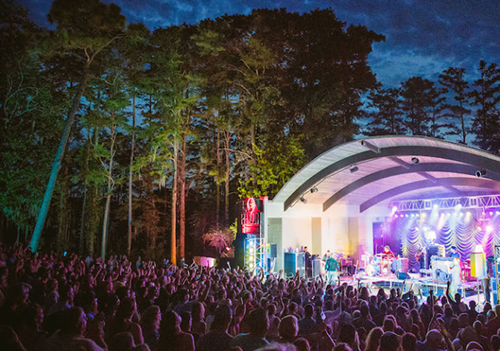 Out of town visitors are a big part of our local economy, especially during summertime when the beach becomes the center of attention. But the seashore isn't the only reason so many people love Wilmington; there are a lot of local happenings going on around town this time of year. Now, as summer finally begins, we've seen greater Wilmington fill their calendar with various community events, offering something for everyone. Below is just a sample of what you can find around town for upcoming summer events:
Riverfront Park Amphitheatre Opening:
July is going to be a big month for downtown Wilmington! The much-anticipated Riverfront Park Amphitheatre will be opening this month, and it promises to be one of the most iconic venues in the area. With seating for up to 7,200 spectators, this new outdoor venue will be one of the largest in the area. The public will even get a chance to see the new amphitheater for themselves on July 4th from 1 to 8 pm. There will be musical acts, stand-up comedy, and even a beer garden! Riverfront Park Amphitheater will be hosting musical guests such as Widespread Panic, Miranda Lambert, and Henry Connick Jr.
N.C. Fourth of July Festival:
Though many events had to be canceled in 2020, Fourth of July Festivities are now back on track for this upcoming weekend. Held in Southport, just minutes away from Brunswick Forest, this year's celebration will involve a beach day, car shows, live music, patriotic readings, and exciting performances all weekend long. And of course, it will be finished off with a dazzling firework display!
Greenfield Lake Amphitheatre Concerts:
Another local favorite that's returning this summer, after an extended hiatus, are concerts held at the Greenfield Lake Amphitheatre. An outdoor venue surrounded by gorgeous Greenfield Lake and natural Cypress tree lines, this amphitheater has become one of the most beloved locations to witness live music in the Wilmington area. Each row of seating is perfectly angled so you can get a great view of the stage no matter where you're sitting. Nighttime concerts here are especially memorable. If you're looking for live music in 2021, make sure Greenfield Lake Amphitheater is on your list at least once for the season. There are already nearly 20 concerts slated to take place until the end of September, including Old Crow Medicine Show, String Cheese Incident, and country music star, Scotty McCreery.
Fourth Friday Gallery Nights:
The greater Wilmington area is known for its eclectic art and talented artists. Be it painting, ceramics, woodworking, or photography, you can be sure to see incredible pieces of art throughout town. During the year, our local area holds different events to help support and showcase artists, one such event that is back in business is Fourth Friday Gallery Nights. This is a series of events that will be on the fourth Friday of June, July, and August. These gallery features will be taking place in and near downtown Wilmington. While the feature for June 25th has already happened, you can still catch the next two on July 30th and August 27th.  Overall, the event has included more than a dozen locations where you can see the best artwork the area offers. You can find out more at ArtsCouncilOfWilmington.org!
Our coastal community of Brunswick Forest is in an ideal location where residents can easily explore the different happenings around Wilmington. Summer fun includes more than just the beach, so remember to support local events this year as our area gets back in business!