Giving Back in Our Community
October 25, 2017
Beth Burgee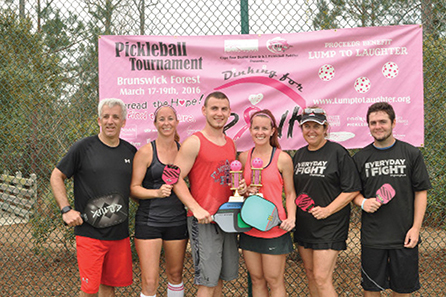 At Brunswick Forest, giving back to the community is serious business!  We have residents with gracious hearts that volunteer their time and efforts giving back to the community they have chosen to call home.
Just this year our residents raised $13,000 at the Dink for Pink Pickleball Tournament which went to benefit Lump to Laughter.  They also helped organize the 6th Annual Good Shepard Golf Tournament & Game Day at Cape Fear National which benefits Good Shepherd's work with the hungry and homeless in Brunswick, New Hanover, and Pender counties.
"It's an amazing thing to watch as residents join forces and give to the community in whatever way they can — money, time or effort.  It's quite touching," commented Jerry Helms, Director of Sales and Marketing for Brunswick Forest.
"It's also inspired our development team to get more involved with the community!" continued Helms.  "We completed a school supplies drive at the end of summer and now we're pulling together a food drive for the holiday season."
If you want more information about the upcoming food drive, contact Beth Burgee with Brunswick Forest, 910.343.3150.
www.brunswickforest.com
888.371.2434