GET AHEAD IN YOUR REAL ESTATE SEARCH
July 26, 2017
Beth Burgee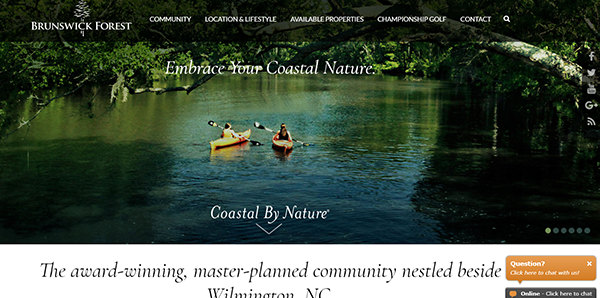 Want to know how to get ahead in your real estate search?!  It's easy when you utilize the Brunswick Forest website and social media channels to your advantage!
When you visit the Brunswick Forest website, it is almost like visiting our award-winning community for the first time.  And, if you know how to navigate the website, you can use it to get ahead in your search for the right place to call home!  Not only does the website offer you the homes and home sites that are available for sale, but it gives you so much more!  It gives you valuable information about the area surrounding Brunswick Forest; it tells you about the amenity-rich lifestyle which awaits you; it gives you a detailed description of each neighborhood with our community; and if you follow our blog, you will have your finger on the pulse of Brunswick Forest.
To get a daily update on Brunswick Forest, follow us on our social media channels – Facebook, Instagram, Tumblr, Twitter, Google +, YouTube, SlideShare.  These channels will get you pacing ahead in your real estate search and on your way to a visit to Brunswick Forest — try our 3 day/2 night Coastal Discovery Package!
www.brunswickforest.com
888.371.2434