Garden Club in Brunswick Forest
February 16, 2019
ISWebmaster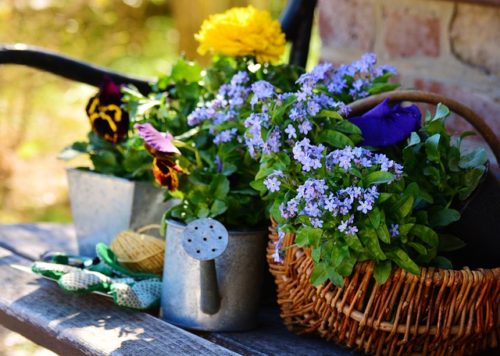 With spring on the way, it's natural to start thinking about fun outdoor activities! Brunswick Forest provides a great environment for activities of all types, including gardening! Sue Acheson, the president of Brunswick Forest's Garden Club, takes time to share her spring planting tips and details about the club she leads.
Sue begins, "Gardening in Brunswick Forest presents so many wonderful opportunities. Here we can grow gardenias, chaste trees, loquats and even palm trees." While the Brunswick Forest Garden Club specializes in ornamental gardening, vegetable gardeners can still make use of the brilliant community garden.
Even with the region's mild climate, Sue says there are still certain challenges that gardeners should be wary of. For example, some gardens are young and have little shade, which limits the amount of plants that one can grow. Some plant varieties might not be familiar to the aspiring gardener, so experimentation and education are both necessary in getting things just right.
For those gardening within hardiness zone 8, there are many challenges. The hardiness zone identifies what plants will do well in our area. Sue went on to explain that in 2018, our area experienced over 100 inches of rain! Therefore, gardeners should be advised to take proper drainage into consideration when planting for the season. "Being near the coast we also have lots of wind. This can topple young trees or dry out your planting containers. If you're looking to plant shrubs or trees, it's better to plant them during colder months, so they are already established when the hot summers set in."
Brunswick Forest gardeners should also be aware of garden pests. Deer and rabbits might try to feed upon your plants this year. "They might seem like they'll eat anything, but deer repellant can deter them from snacking. It works best when used once a month, year-round," Sue tells us.
If you're looking to mingle with other like-minded gardening enthusiasts, Sue Acheson has just the club for you! Brunswick Forest Garden Club has attracted many residents from beginners to gardening veterans. Many members are also newcomers to Coastal North Carolina so, providing a place for them to learn and identify the native plants in their yards is important. "We currently have 35 active members and many guests will also come to our meetings," Sue shares. The Brunswick Forest Garden Club meets the 2nd Thursday of every month at 1 pm. From flower arranging sessions to attracting birds to your garden, the Brunswick Forest Garden Club covers many relevant topics.
This group is looking to share even more of their gardening passions with friends and neighbors in 2019! The Brunswick Forest Garden Club will be having a tour of their members' gardens on Thursday, June 13th from 10 am to 2 pm. Tickets to view these gardens will be ten dollars per person.
Sue ends by stating that, "Brunswick Forest Garden Club is special because it's where you can share gardening success, failures, questions, inspiration and make friends who still like to play in the dirt." Interested in joining, or need more information regarding tickets to the garden show? Be sure to contact Sue at sweetsuea@acheson.org.