Full Stomachs and Warm Hearts: November Baked Goods
November 25, 2020
ISWebmaster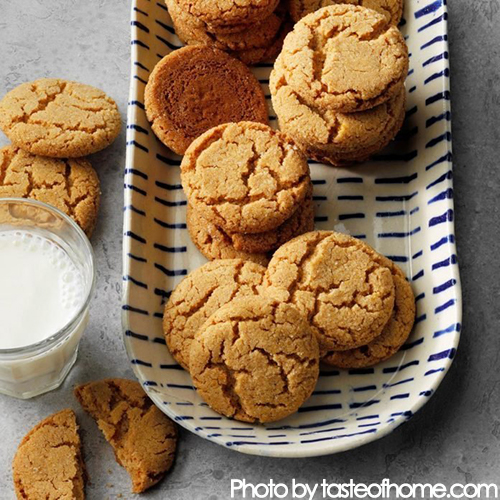 Few things bring a community table together like baked goods during the holidays. Pies, cookies, and other tasty treats are usually the talk of the table this time of year. Oh, and you're in luck because you do not have to be a trained chef to prepare something scrumptious for the holidays. Brunswick Forest has two easy recipes that you can follow along with at home, and they are sure to have everyone coming back for second helpings!
The best recipes this year, are ones that focus on simplicity and flavor. You do not need an overly complex dish to stir emotions in your guests. When it comes to the holidays, we might think of classic tales of rich feasts prepared exquisitely. Well, hold the holiday goose Ebenezer, because here are two very simple recipes that are equal parts delicious and easy.
Cinnamon Crackle Cookies:
You would be hard-pressed to find something more comforting around the holidays than the smell of fresh cookies being baked. Here is what you will need to make them:
Ingredients:
½ cup of butter softened
½ cup of shortening
1 cup of sugar
½ cup of packed brown sugar
1 large egg, room temperature
1 teaspoon of vanilla extract
½ teaspoon of almond extract
2 and a half cups of all-purpose flour
1 tablespoon of ground cinnamon
2 teaspoons of baking soda
2 teaspoons cream of tartar
2 teaspoons ground nutmeg
2 teaspoons of grated orange zest
1 teaspoon of grated lemon zest
½ teaspoon of salt
Additional sugar
First, take a large bowl, then proceed to cream the butter, shortening and sugars together until light and fluffy. Do this for about five to seven minutes. Beat in the egg and extracts as well, after you have done this. Then you will want to combine the flour, cinnamon, baking soda, cream of tartar, nutmeg, orange zest, lemon zest, and salt. Gradually begin adding this to the creamed mixture you have prepared already. Then take the created dough and roll into tiny one-inch balls. You will want to coat these balls in the additional crystallized sugar. Place 2 inches apart on a baking sheet (ungreased) and bake at 350 degrees until lightly browned for 10 to 15 minutes. Let the cookies cool and then you are ready to serve!
Sweet Potato Spice Bread: A fine taste of Southern tradition with a modern holiday twist! This sweetbread recipe promises to tantalize the taste buds.
Ingredients:
1 cup of all-purpose flour
1 and a half teaspoons of baking powder
¼ teaspoon each of ground cinnamon, nutmeg, and all-spice
1/8 teaspoon of salt
1 large egg, room temperature
1/3 cups of mashed sweet potato
1/3 cup of honey
3 tablespoons of canola oil
2 tablespoons of molasses
1/3 cup of chopped walnuts
In a small bowl, begin to combine the flour, baking powder, spices, and salt. In another sperate bowl, whisk the egg, sweet potato, honey, oil, and molasses together. Stir into your dry ingredients until moist, and then add in the walnuts. Transfer the bread mixture to two greased loaf pans. Proceed to bake the bread at 325 degrees Fahrenheit or until an inserted toothpick come out clean. Proceed to have the bread cool for 10 minutes after taking it out of the oven!
From the team here at Brunswick Forest to you and your family, we wish you a delicious and happy Thanksgiving!
*Recipes sourced from www.tasteofhome.com