Repeat Buying in Brunswick Forest
March 22, 2019
ISWebmaster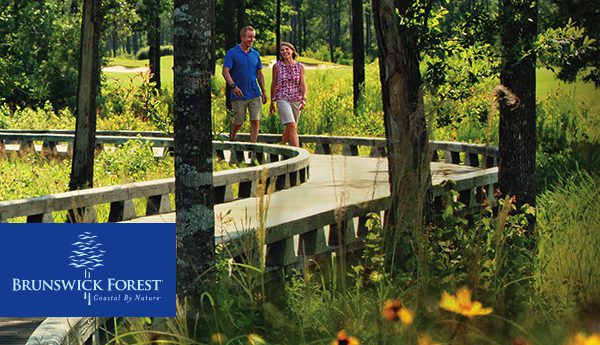 Brunswick Forest gives residents a lot of opportunities regarding lifestyle choices.  A desirable location, a variety of amenities, and convenient shopping are just some of the great attributes at Brunswick Forest. This master planned community offers different styles of homes to suit your ever-changing needs. As some of our residents can attest to, as life changes, so does our need for living options. This is why many of our Brunswick Forest residents have become repeat buyers in the community, as they downsize or even up-size their home style.
Many homeowners decide to essentially swap homes within the same development. Brunswick Forest residents love their homes, but some love Brunswick Forest so much that they'll sell their current home to move into a new one in a different area of the community!
There is never a need to look outside of their own community for a specific home option, because Brunswick Forest has the options that people are looking for. The experienced sales team at Brunswick Forest realty will help you sell your current home, while giving you a seamless transition to a new choice. They're your one-stop shop for both retail and sales, which makes the process even more convenient for residents.
Brunswick Forest agent, Michael Braddock, has worked with at least half a dozen people who have engaged in full circle buying.  One unique experience he's had is with two brothers who bought houses with the same floor plan in the same neighborhood. After some time, both brothers realized that their current spaces could no longer accommodate the guests they were having over. (When you live in Brunswick Forest, you tend to make a lot of friends!) So, they worked with Michael through the process of getting their homes sold and determining what would suit their newly discovered needs.
Agent Chris Dedrick had two owners also engaged in the repeat buying experience. The first of these being Pat and Eileen Scanlon from Long Island, New York. Pat and Eileen first purchased an Ashwood Townhome at Brunswick Forest while they were going back and forth from Long Island. Eventually, both Pat and Eileen decided to make living at Brunswick Forest a permanent relocation. Feeling that they needed a bigger place that suited their needs, the Scanlon's bought a homesite and built a custom home in the Walden neighborhood at Brunswick Forest. Pat and Eileen love Brunswick Forest so much they have referred dozens of their family and friends.
Brian Galeucia, another Brunswick Forest sales agent, has had plenty of couples that have been repeat buyers in Brunswick Forest. Jeff and Dorothy Thompson are originally from Aurora, Ohio, and happened to fall for a home in the Jefferson Landing neighborhood in Brunswick Forest. This happened in 2015, but after owning their home for a few years, their needs changed. Instead of having to look in other communities, Jeff and Dorothy searched Brunswick Forest and found a home by Fogleman Homes in the Shelmore neighborhood. Purchasing this custom build in 2018, the Thompson's are now enjoying life steps away from Hammock Lake, Hammock Park and the Fitness Center.
Kim Fanelli has been with Brunswick Forest from the very beginning. Over the years she has helped multiple families buy and sell their homes within the community, swapping homes throughout several neighborhoods. One such family and longtime Brunswick Forest residents are Doug and Lisa Kazantzis. The Kazantzis family are formerly residents of Wilmington. They purchased a lovely townhome in 2009 where they lived for many years. In 2018, Doug and Lisa found the home of their dream in Cape Fear National and made the move into a Spencer floorplan built by Fogelman Builders.
What does this say about Brunswick Forest? Brunswick Forest is the perfect community for homeowners that value commitment and appreciate convenience. These stories are a testament to our community and the residents that couldn't imagine living anywhere else.