FREE EDUCATIONAL PROGRAMS AT THE LELAND LIBRARY AVAILABLE TO BRUNSWICK FOREST RESIDENTS
May 1, 2016
Brunswick Forest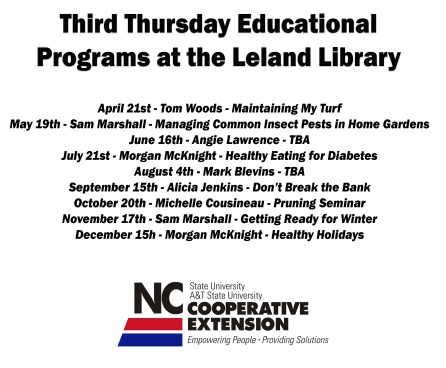 Brunswick Forest is a master-planned community located in the coastal Southeast that emphasizes an active, amenity-based lifestyle for residents. In addition to opportunities for physical activity with the community pools, tennis and pickleball courts, Fitness and Wellness Center, golf course, kayak and boat launch and more than 100 miles of walking, biking and nature trails, residents can also keep their minds active by participating in community-based and area educational programs like those offered at the Leland Library by the North Carolina Cooperative Extension.
Every third Thursday from April until December, the NC Cooperative Extension will offer free educational seminars that will cover a variety of topics pertaining to gardening, nutrition, agriculture and parenting with information generated by North Carolina State University and North Carolina A & T University.
To learn more about these and other programs, contact the Brunswick County Cooperative Extension Office at 910.253.2610.
888.371.2434
www.BrunswickForest.com