FOR TENNIS-LOVERS, BRUNSWICK FOREST IS THE PLACE TO BE!
October 5, 2014
Brunswick Forest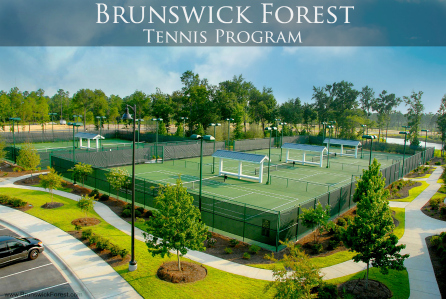 At Brunswick Forest, we not only have six outstanding, hard-surface tennis courts, but we also offer a comprehensive tennis program! Our philosophy is: everyone plays, everyone improves, and everyone has fun, so you be assured that you will enjoy tennis at Brunswick Forest no matter what your skill level may be.
ADULT AND JUNIOR CLINICS
Our Fitness and Wellness Center offers both Adult and Junior Clinics for tennis players from beginner and intermediate to advanced skill levels. Check with the Fitness and Wellness Center personnel for specific dates and times. Group Clinics cost $15 an hour or $20 for an hour and half. Private lessons are $50 per hour.
ADULT LEAGUE PLAY
Brunswick Forest offers several leagues for varying levels of adult players. We have a Women's Day League Team and many different levels of USTA teams for both men and women. Contact Head Tennis Pro Jeff Kohl to get involved.
COED DROP-IN PLAY
Coed drop-in play is available to all residents on Thursdays and Sundays from 10 a.m. to 12 noon. Fall is a wonderful time of year to get involved with tennis, so join your fellow tennis-loving residents out on the courts today!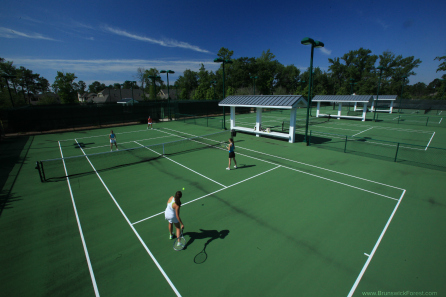 888.371.2434
www.BrunswickForest.com