FIVE AREA MUST-DO'S THIS SUMMER
August 14, 2015
Brunswick Forest
Summer is winding down, and residents of Brunswick Forest won't want to miss an opportunity to take part in these area summer past-times while they still can!
SWING ON THE NEW CAROLINA BEACH BOARDWALK
The Town of Carolina Beach recently revamped their boardwalk district and added a brand new wooden seaside boardwalk complete with foot wash stations, benches and swings. Take a short ride from Brunswick Forest to see this quaint beach town and walk the length of this unique new area attraction.
TRY A BRITT'S DONUT
While you are down in Carolina Beach, stop at Britt's Donuts for one of their famous glazed donuts. For more than 75 years, Britt's has been a Carolina Beach institution. On opening day each summer season, customers line up around the block to enjoy a quintessential taste of summer with each delectable bite.
TAKE THE POOCH PLUNGE AT LEGION STADIUM
Every year at the end of summer, Legion stadium opens up the large community pool to the area's four-legged friends. From Tuesday, Sept. 8th through Sunday Sept. 13th, you can take your dog over to swim and spend time with other area pets and their owners. No bathing suit is needed for this trip to the pool, this swim event is for dogs only! For hours and information, visit the City of Wilmington's Pooch Plunge website page.
CATCH A CONCERT DOWNTOWN
Just because Brunswick Forest's Summer Concert Series has ended, doesn't mean you won't have more opportunities to see live music outdoors this summer! Head to downtown Wilmington's Riverfront Park the next few Friday nights of summer to catch the final concerts of the Downtown Sundown Concert Series. Concerts begin at 6 pm and refreshments are available for purchase.
TAKE A HORSE-DRAWN TROLLEY RIDE DOWNTOWN
While you are in downtown Wilmington, make sure to see the historic sights and hear about the city's rich history from a seat in a unique horsedrawn trolley. Take in the historic streets the way residents did centuries ago at a slower pace while pulled along by two beautiful rescue draft Percheron horses. Your driver and tour guide will provide you with plenty of entertainment and historical trivia about the area.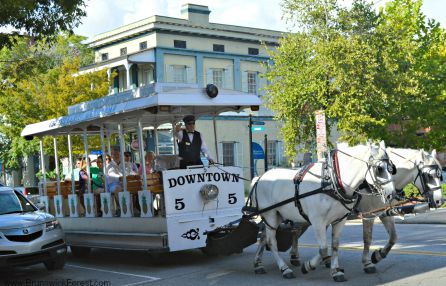 888.371.2434
www.BrunswickForest.com