Fitness and Wellness Center, Pools and the Splash Cafe
June 21, 2019
ISWebmaster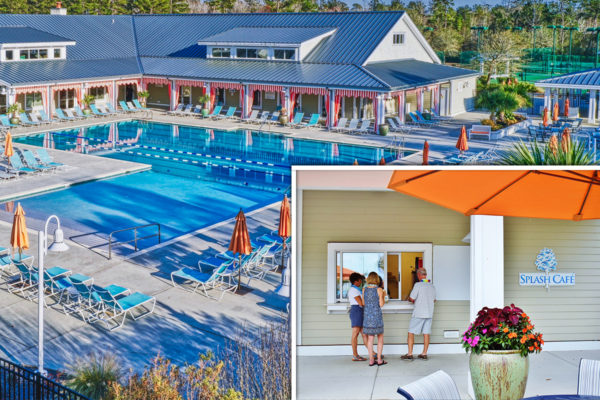 Not many communities offer the level of amenities that Brunswick Forest does. At 18,000 square-feet, the Fitness and Wellness Center is a natural hot spot for Brunswick Forest residents, as it has several great options for keeping you both active and relaxed. Since Summer has officially started today, there's no better place to head than the pool at the Fitness and Wellness Center.
Fitness and Wellness Center Pool Hours:
Monday – Friday, 5:30am – 9pm
Saturday – Sunday, 7am – 9pm
Our Olympic sized swimming pool is saltwater, which is especially enticing during these upcoming lazy summer days. It doesn't matter if you're looking to stay active by swimming some laps or just looking for relief from the sun, residents of all ages are welcome to splash the day away. The outdoor pool is up to six feet deep and is open to everyone. Outdoor swimmers will appreciate the roped off areas for lap swimming in the main pool, in which there can be up to two lanes available at a time. Handicap access is also offered so nobody is ever unable to add a little hydro relaxation to their day. Little ones will also enjoy a day of poolside recreation, and it's a great way to keep them busy! The pool at the Fitness and Wellness Center is large enough to accommodate plenty of people during the day, but it's not so hectic that the atmosphere becomes unrelaxing. There's even an indoor pool up to five feet deep that can be used for a variety of purposes, such as some of the aqua fitness classes available. After you're done with a dip in the pool, you can then relax by drying off under the generous amounts of shade provided by the nearby umbrellas.
Fitness and Wellness Center Splash Café Hours:
Open Wednesday – Sunday from 11am to 6pm (weather permitting)
While the pool offers a great spot to refresh your body, the nearby splash café is the place to be for a wide variety of tasty snacks, drinks and sweets! The splash café is a dedicated area where everything is quick and convenient, where you can enjoy a bite and get right back into some poolside activities. Alcoholic beverages are also available.
Throughout the course of the summer, barbecues, holiday events are also featured at the Fitness and Wellness Center pool. Meaning that throughout the season you'll always have something fun to look forward to. It's a great way to relax and enjoy the company of your friends and neighbors. Don't forget that there's also live music events You can view all upcoming events at the Fitness and Wellness Center here: http://bit.ly/2WIGbhW
When sun gets high and hot, residents at Brunswick Forest can always take pleasure in knowing they are taken care of. Grab your pool noodles, grab some floaties and grab a lounge chair. Summer has just begun, and if you feel like swimming close to home without all the sand in your shorts, you'll want to stop by the pools at the Fitness and Wellness Center.