Farmer's Markets
April 22, 2019
ISWebmaster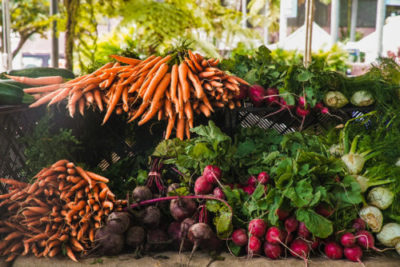 There is nothing better than farm fresh produce and with Spring finally here, it's a great time to stock up on some of the best local goods that you can buy. Brunswick Forest is all about embracing and supporting our local areas, so here's some upcoming farmer's markets that you'll be eager to visit!
The Riverfront Farmer's Market is a local favorite, as it is right across the bridge in the beautiful, historic downtown area of Wilmington. "The Riverfront Farmers Market was developed to provide a place for local growers, producers, artisans and crafters to sell their goods directly to consumers, to educate consumers about local farming and seasonal eating, to encourage and promote the use of locally-grown farm products; and to enhance quality of life in Wilmington by providing a community activity that fosters social gathering and interaction." You can check it out each Saturday between March 23rd and November 23rd from 8am to 1pm.
Minutes away from the gates of Brunswick Forest, is the Town of Bellville. This town is nestled along the Brunswick River and has plenty of attractions to keep your day chock full of things to do. You can browse fresh local produce and locally caught seafood provided by Seaview Crab Company.  The Belville Farmer's Market is now back to its normal hours:
2pm – 6pm on Thursdays | 11am – 6pm Fridays and Saturdays | 11am – 4pm pm Sundays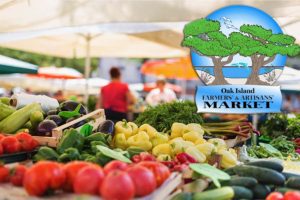 Also, very close to Brunswick Forest, is the town of Oak Island, which also has its own market. The Oak Island Farmer's Market offers the finest in local homemade cakes, jams, produce and homemade goods! What better way to spend your day, than to experience the culture of Oak Island? This market will be from May 20th – September 2nd and is open on Mondays from 8am to 1pm.
Photo: https://oak-islandnc.com/oak-island-farmers-market/
Wrightsville Beach has always been a hot spot for people in the greater Wilmington area. While the sugar white sand and salty surf is usually the main attraction, that doesn't mean that the area doesn't have some great markets of its own. Started in 2009, the 2019 Wrightsville Beach Farmer's Market hosts several vendors who sell their produce and crafts. This market is unique for its craft vendors because of the relaxing, beachy, atmosphere that promotes social interaction and quality of life. Some of the vendors this year will include Davis Seafood, Altar Cross Farms, J-Bees & Eggs, Farm Frames, Coastal Terra and much more. The Wrightsville Beach Farmer's Market is held on the Wrightsville Beach Municipal Grounds from May 13th – September 30th, Mondays from 8am – 1pm. View the link here to see the full list of vendors: https://www.townofwrightsvillebeach.com/183/Farmers-Market .
Southport, only a 30 minute drive from Brunswick Forest, features its own farmer's market set by the historic waterfront. Visitors will have the pleasure of browsing this open-air market on the Fort Johnston Garrison Lawn. With great views of the Cape Fear River, browsing this outdoor market is certainly a treat. Their offering of fresh products is held every Wednesday 8am – 1pm, between May 3rd and September 6th.
For those who desire to browse goods for their home, hearth and garden, there's the farmer's market at Poplar Grove Plantation! Poplar Grove has long been considered a famous local attraction with great historical value. Poplar Grove farmer's market will be open Wednesdays 8am to 1pm starting April 17th and will last until September 25th. Bakers offer tasty cookies and other treats, while farmers offer produce and fresh landscaping plants. Herbalists will also be enchanting buyers with a great array of locally made scented oils and salves. Overall, it's a market that offers a wide variety of goods with a traditional feel.
Brunswick Forest encourages you to shop local this spring and summer! You can see a full list of farmer's markets here: https://www.ncfarmfresh.com/Directory.asp https://www.ncfarmfresh.com/Directory.asp