Fall in Love with your Local Theater and Performing Arts
August 28, 2018
Beth Burgee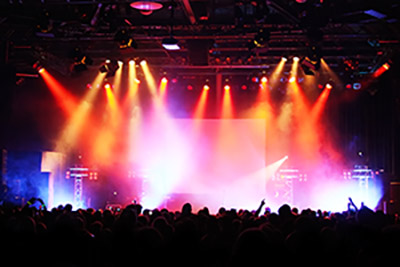 Although summer may be coming to an end, there are still many exciting activities happening in our area.  Take a break from the heat and get ready for the cooler fall weather by attending theatrical performances, concerts, and other unique events at your local performing arts centers. Here is just a highlight of the events you can attend that will provide endless entertainment throughout the fall and winter months:
Thalian Hall in Downtown Wilmington:
A Taste of the Town: 
September 11th at 6:00 PM
Take part of this culinary tour by enjoying a sampling of signature dishes from a variety of Downtown Wilmington restaurants.
Romeo & Juliet: 
October 25th – November 2nd every night at 7:30 PM 
Celebrate Thalian Hall's 160th anniversary with this classic tragedy by Shakespeare.
One Night in Memphis: 
 November 3rd at 7:30 PM 
Relive a legendary night from 1956 where Elvis Presley, Carl Perkins, Jerry Lee Lewis, and Johnny Cash all gathered together for an "off-the-cuff jam session".
The Wilson Center in Downtown Wilmington:
PNC Broadway Series: From New York to You:
November 2018-May 2019 
A full season of Broadway Shows right here in Downtown Wilmington. There are many shows to choose from or you can buy the whole season package to see them all!
North Carolina Symphony: Beethoven's 5th: 
September 29th at 7:30 PM
The North Carolina Symphony will perform Beethoven's famous Fifth Symphony with conductor, Wesley Shulz.
Cape Fear Stage presents Eddie Money: 
October 25th at 7:30 PM 
Eddie Money will be performing his top hits like "Two Tickets to Paradise", "Baby Hold On", and "Take Me Home Tonight", so you don't want to miss this!
Leland Cultural Arts Center:
LCAC presents Uncultured Comedy:
September 7th from 7:00 PM – 9:00 PM 
Five local comedians will be serving up their best comedic acts for a night of laughs and fun!
LCAC presents Molasses Creek Band:  
September 21st at 7:00 PM 
These local singer/songwriters bring their love of their coastal home to the stage with "traditional and temporary acoustics, ballads with ensnaring vocal harmonies, and hot instrumentals".
Odell Williamson Auditorium at Brunswick Community College:
OWA presents Magic of Motown: 
September 14th at 7:00 PM 
Get down with Motown Soul & Rock n' Roll and dance the night away!
OWA presents Edwin McCain: 
October 12th at 7:00 PM
Enjoy Edwin McCain's top hits like "I'll Be" and "I Could Not Ask For More".
OWA presents The Artrageous Experience: 
November 3rd at 7:00 PM
Artrageous provides a theatrical art experience with art, music, dancers, and more for the whole family, and no two shows are ever the same!
Brunswick Forest Presents:
Concert in the Park at Annsdale Park
October 6th from 6:00 PM – 8:00 PM
Join us for our FREE fall concert at Annsdale Park with our special musical guests PARTY OF 6IX!