Explore Our Area Farmers' Markets
June 22, 2018
Beth Burgee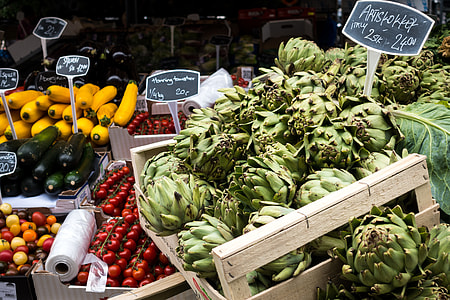 Combining our love for the community and fresh, local produce, we're bringing you a list of a few of the 2018 farmers' markets in the area. Our area boasts a wide variety of markets to choose from in different locations and on various days of the week. This variety allows local farmers, fishermen and merchants to showcase their produce, art, crafts and more to the community while consumers have the opportunity to support these small businesses.
Each market features their own variety of local vendors, allowing you to fill up on your favorite seasonal items all in one place. Stock up on your fruits and veggies from Humble Roots Farm, fresh berries from Lewis Nursery and Farms, and freshly baked goods from Great Harvest Bread Co. while immersing yourself into the local community.
Saturdays, 8:00am – 1:00pm // March 31st-November 17th // Riverfront Park on Water Street // Downtown Wilmington
This curbside market features local farmers, producers, artists and crafters. One of the larger farmers markets in the area, vendors bring products such as fresh fruits and berries, vegetables, plants, herbs, eggs, cheeses, meats, seafood, honey, baked goods, legumes, pickled items, jams and jellies, wine, art, crafts and more.
Wrightsville Beach Farmer's Market:
Mondays, 8:00am – 1:00pm // May 14th – October 29 // Wrightsville Beach Municipal Grounds
Originating in 2009, this market features fresh, locally grown produce, as well as a variety of unique craft vendors. Check out the full list of vendors and products available at the Wrightsville Beach market here.
Monday-Friday, 9:00am – 7:00pm
Saturday, 8:00am – 7:00pm
Sunday, 10:00am – 6:00pm
5470 Market Street, Wilmington NC // 6458 Carolina Beach Rd., Wilmington NC
Open daily, Port City Produce has two locations operating out of Wilmington and Carolina Beach. The market provides fresh, local fruits, vegetables and other local goods to the community.
Wednesdays, 8:00am – 1:00pm // April 18th – September 26th // Poplar Grove Plantation
Helping to bring the community together, Poplar Grove's weekly farmers market strive to promote local farmers and the use of local products, educate consumers on conservation practices, and provide the local community an opportunity to get to know their farmer, their baker and their artisan maker!
Beer Garden Farmers Market at Wrightsville Beach Brewery:
Thursdays, 4:00 – 8:00pm // March – October // Wrightsville Beach Brewery
Featuring a variety of local vendors, Wrightsville Beach Brewery's local farmers market features local and handmade food, art, jewelry, wearables and scented products.
Saturdays, 9:00am – 1:00pm // Mulberry Park, Shallotte
Featuring produce and goods from local Brunswick County merchants, the Shallotte Farmers Market is open weekly and has many different vendors in their line up. While at the market, you can choose from fresh fruits, vegetables, herbs, cookies, bread, art, pottery and more!
866-831-8289
www.BrunswickForest.com