EXPLORE AREA MUSEUMS
October 11, 2014
Brunswick Forest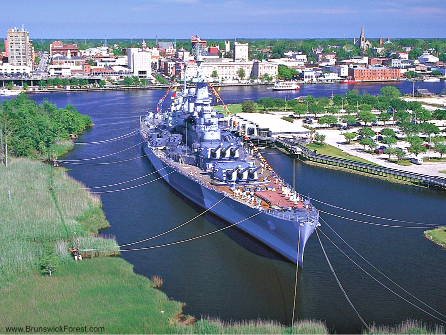 Southeastern North Carolina is home to not only friendly people, beautiful landscapes and gorgeous beaches, but it is also boasts plenty of fantastic museums. Whether you like history, nature or art, there is a museum near Brunswick Forest that will pique your interest!
CAPE FEAR MUSEUM
Take in the history of the Wilmington area at the Cape Fear Museum. Some of the featured exhibits include "Cape Fear Stories," the "Michael Jordan Discovery Gallery " and the "Maritime Pavilion."
CAMERON ART MUSEUM
Wilmington's only exclusive art museum, the Cameron Art Museum, features an extensive permanent collection as well as touring exhibits and special events.
CHILDREN'S MUSEUM OF WILMINGTON
Located in the heart of downtown Wilmington, the Children's Museum of Wilmington offers a truly unique experience for kids. Tour a number of hands-on exhibits intended to stimulate children's imagination, curiosity and love of learning.
USS NORTH CAROLINA BATTLESHIP
Step back in time and tour this WWII relic. The USS North Carolina Battleship is open daily and offers guided and self-guided tours as well as a museum with historical information and artifacts.
CAPE FEAR SERPENTARIUM
If you are looking for something unique and different to do with the family, check out the Cape Fear Serpentarium. This facility features dozens of exhibits that include rare and venomous species of snakes, exotic lizards and dragons, giant constrictors and crocodiles.
NORTH CAROLINA AQUARIUM AT FORT FISHER
The North Carolina Aquarium at Fort Fisher has a number of family-friendly exhibits that showcase the marine wildlife in the Cape Fear region and beyond. Tour tanks filled with exotic sea life, meet an albino alligator and visit the Butterfly Bungalow.
NORTH CAROLINA MARITIME MUSEUM
The North Carolina Maritime Museum at Southport tells the story of the Cape Fear region's people and their relationship to the water. The museum houses memorabilia, artifacts, ship models and more!
FORT JOHNSTON SOUTHPORT MUSEUM AND VISITOR CENTER
At this museum and visitor center, located inside the Fort Johnston Garrison House, visitors can view artifacts, tour the fort and learn historical facts like how the fort was originally built by British settlers in 1748 to protect the region from Spanish and French attacks and was used in the Revolutionary and Civil Wars.
OLD BALDY LIGHTHOUSE AND SMITH ISLAND MUSEUM
Climb North Carolina's oldest standing lighthouse and learn about the area's rich maritime history that dates back more than 400 years! Tours are available of the lighthouse, oil house and keeper's cottage.
THE MUSEUM OF COASTAL NORTH CAROLINA AND THE INGRAM PLANETARIUM
Located in nearby Sunset Beach, The Museum of Coastal North Carolina and the Ingram Planetarium has plenty of hands-on exhibits that are kid-friendly as well as a planetarium with Sky Dome Theater shows and laser music events.
888.371.2434
www.BrunswickForest.com