EXPANSION COMING TO HAMMOCK POOL
September 27, 2016
Brunswick Forest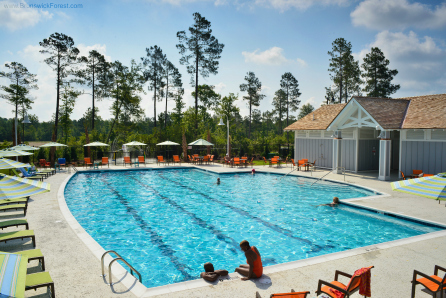 If you enjoy staying fit and being active here at Brunswick Forest, then we have great news for you! An expansion is planned for Hammock Pool located in the Shelmore neighborhood of Brunswick Forest. This new expansion will feature a new meeting room and cardio room. Filled with treadmills and ellipticals, the new cardio room at Hammock Pool will be your go-to place for your daily workout! The new meeting room will be a great spot for your weekly mahjong and poker games. We look forward to the expansion, so stay tuned for news and updates as these changes take shape!
STAY FIT AT BRUNSWICK FOREST
Want to keep active before the Hammock Pool Expansion happens?! The Fitness and Wellness Center has a schedule of events, organizations, and classes that you can participate in today! Whether you are interested in tennis and pickleball, golf, or social events, there are always opportunities to get involved. Visit the Fitness and Wellness Center website for more information and to view the monthly group fitness calendar!