ENJOY LIVE MUSIC AT BRUNSWICK FOREST
October 19, 2014
Brunswick Forest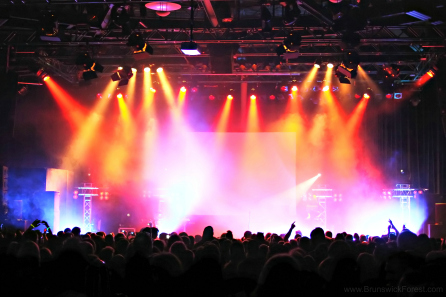 Brunswick Forest's prime location, just minutes from Wilmington, North Carolina, ensures that residents have convenient access to plenty of live music venues as well as some of the biggest area music festivals.
ENJOY LIVE MUSIC AT THESE LOCAL VENUES
Fans of live music have plenty of places to choose from hear music in the Wilmington area. Ziggy's By the Sea is located on the corner of Second and Market Streets in downtown Wilmington and hosts nationally-touring rock, roots and reggae acts.
Bourgie Nights is a new venue on 127 Princess Street in downtown Wilmington located next to acclaimed restaurant Manna. Bourgie Nights offers guests classic cocktails, unique performances and is the home of "Wilmington Unplugged."
The Whiskey is one of Wilmington's long-established live music venues and bars. Located at 1 S. Front Street, this bar is a favorite performance spot for local bands and musicians.
The Rusty Nail is another local band favorite. This bar and nightclub is located at 1310 S. 5th Avenue, also in downtown Wilmington.
The Greenfield Lake Amphitheater is Wilmington's only outdoor theater. Located in beautiful Greenfield Lake Park, the amphitheater hosts nationally-touring acts as well as Shakespeare on the Green.
Don't want to head in to Wilmington to hear live music? We have you covered! Each Summer, Brunswick Forest hosts three great outdoor summer concerts for their Summer Concert Series in Annsdale Park.
HEAD OUT TO ONE OF THE AREA'S MANY MUSIC FESTIVALS
Wilmington hosts a number of fantastic music festivals throughout the year. In the winter, head downtown for the North Carolina Jazz Festival, which is held annually at the Wilmington Hilton Riverside. Local radio station The Penguin hosts an annual spring Penguin Music Festival that features national acts, indie rock musicians and folk artists. The Cape Fear Blues Festival is put together every year by the Cape Fear Blues Society. This three-day festival brings plenty of big-name acts in to town and features an all-day blues jam on the final day of the event. Finally, the Pleasure Island Seafood, Blues and Jazz Festival is held each fall at the beautiful Fort Fisher Air Force Recreation Area located right near the mouth of the Cape Fear River.
888.371.2434
www.BrunswickForest.com