ENJOY INTERNATIONAL CUISINE AS A RESIDENT OF BRUNSWICK FOREST
October 11, 2015
Brunswick Forest
People who move to Brunswick Forest from major metropolitan areas don't need to worry about not having plenty of dining options available to them. The Wilmington area boasts a great number of fantastic restaurants, many of them just moments from Brunswick Forest. New residents will have plenty of unique eateries to choose from when they move to this award-winning, master-planned community!
FRENCH
Caprice Bistro in nearby downtown Wilmington serves up traditional French bistro fare. Enjoy their delicious waterzooi, a house specialty full of delicious local seafood and fresh cream. The restaurant's atmosphere is warm and cozy with an intimate upstairs sofa bar area where guests can enjoy a cocktail, food or glass of champagne.
JAPANESE
YoSake is Wilmington's downtown sushi lounge and restaurant that offers Asian fusion cuisine in a unique location. Yosake's "Tokyo Vogue" décor is the perfect backdrop for enjoying a specialty cocktail or something from the restaurant's daily happy hour menu.
ITALIAN
Located in The Villages at Brunswick Forest, and easily accessed through the community's network of walking and biking trails, Pizzetta's offers gourmet pizza as well as traditional Italian fare like pasta dishes and risotto. The restaurant's owners are Brunswick Forest residents and can often be found behind the bar or in the kitchen of this popular community restaurant.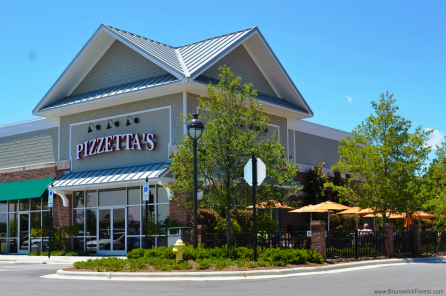 MEXICAN
Just a quick trip from Brunswick Forest is one of the area's most popular Mexican restaurants! San Felipe in Leland offers traditional Mexican dishes, ice cold beer and hand-made cocktails. Stop by soon and check out their brand new brunch menu.
THAI
Tastee Thai is located just a few miles from Brunswick Forest in Leland and has some of the area's best international cuisine. Whether you like traditional spicy Thai dishes or prefer hibachi or even sushi, Tastee Thai has you covered!
GERMAN
The German Café, located in historic downtown Wilmington's Cotton Exchange, is the area's only authentic German restaurant. Enjoy bratwurst, kielbasa, knockwurst, and sauerbraten all prepared using traditional German recipes.
MEDITERRANEAN
Leland's Gusto Grille has a varied menu featuring classic Mediterranean dishes. Local residents rave over their falafel, fried calamari and delicious pita boats.
COMING SOON TO BRUNSWICK FOREST
Coming in 2016 to Brunswick Forest is Slainté Irish Pub which will offer traditional Irish fare, pub food and a full bar. The new location in The Villages at Brunswick Forest will be the fourth one for Slainté Irish Pub, which currently operates in downtown historic Southport, downtown Wilmington and has new location opening soon in Wilmington's Monkey Junction.
888.371.2434
www.BrunswickForest.com