Enchanted Airlie Gardens 2019
December 6, 2019
ISWebmaster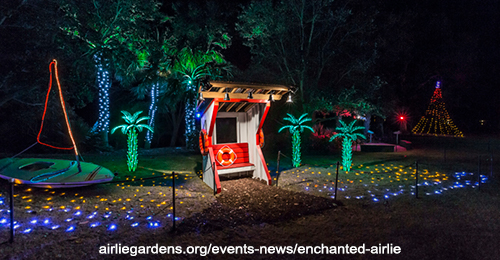 The upcoming Christmas holiday is always a special time, here in the greater Wilmington area. There's plenty of shows, festivals, craft fairs and other holiday spectacles happening all month long. While not especially far from our community here at Brunswick Forest, the famous Airlie Gardens is always a sight worth seeing. Steeped in a whole lot of Southern history, Airlie Gardens is incredible during the spring when all the flowers are in bloom. Airlie Gardens is equally mesmerizing during December as well!
Here's a little Wilmington history for you, if you haven't yet visited the famous gardens along Bradley Creek. Airlie Gardens was once the private garden of the Jones family, led by Pembroke Jones, a wealthy railroad entrepreneur and rice planter. Pembroke's lovely wife, Sarah Jones, began converting their original estate at what is now Airlie Gardens into a place of horticulture in the early 1900s. She added in lakes, garden paths, a pergola and many other features that would become the focal points of the area today. It was here at her garden estate that Sarah would hold lavish parties that would be the talk of early Wilmington! Her extravagant events would end up coining the famous phrase: "keeping up with the Joneses." Even after all this time, her presence can still be felt in every inch of Airlie's 67 acres of land. Mighty live oaks, historic structures and serene ponds have the backdrop for many films and weddings.
For Enchanted Airlie, the spirit of a Southern Christmas comes alive in the form of several decorations and lights interwoven amongst all the greenery. A tradition in New Hanover County since 2005, guests from all over have come to take in the sparkling sights that will be on display. Several iconic Airlie areas will be decked out in festive livery, as you can choose to take a self-guided tour throughout the gardens while enjoying music, holiday displays and of course an appearance from the big guy himself, Mr. Claus!
Tickets for this remarkable event will sell out before you know it! If you're looking to make it out to Enchanted Airlie for 2019, then you better act fast. Brunswick Forest deeply values the rich history and natural beauty of the greater Wilmington area, and Airlie Gardens is a great way to get out and enjoy the mild weather of the season.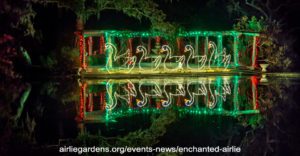 Enchanted Airlie
Interested in learning more about Brunswick Forest? Call us at 855.983.9579.