Eating Good on the Water: Fall Restaurant Feature
September 27, 2021
ISWebmaster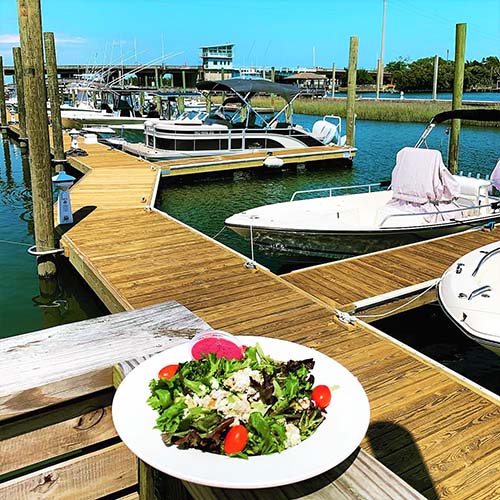 Wilmington, Leland, and Brunswick County are a food lover's paradise. Fresh seafood is a big commodity down here. But that's not all we're known for! There is a whole lot of great restaurants in greater Wilmington, and the surrounding locale. Many of which, you can enjoy a meal while overlooking some of the most gorgeous waterfront vistas around. Be it for surf or turf, you can rest assured there's something to satisfy you. Here are a few of our recommendations for places you can eat on the water:
Elijah's Seafood Restaurant:
Located right on the banks of the Cape Fear River at 2 Ann Street in downtown Wilmington, Elijah's has been a source of eclectic dining on the water since 1984. A perfect place to eat outside and watch a sunset over the waterfront, Elijah's focuses on fresh seafood and snazzy coastal cocktails. Their menu includes local favorites such as popcorn shrimp, crab cakes, prime rib, shrimp scampi, and a Calabash-inspired fried seafood platter. A kid's menu allows for a great night out for the whole family. Great food and unbeatable scenery are a big part of why this establishment has been named one of North Carolina's premier outdoor eateries.
Ruth's Chris Steakhouse:
A big name in the beef serving industry, Ruth's Chris is located inside the lovely Ballast Hotel. Ruth's Chris might be a household name all over the country, but this location gives you exactly what you want out of a coastal vacation to Wilmington: gorgeous waterside views to make any meal special. With a nice view of the Cape Fear River from their premier dining area, this steakhouse has become the choice location for couples looking for a romantic way to end a night on the town. This restaurant is known for having some of the finest steaks on the market, with mouthwatering classics like filet mignon, ribeye steaks, porterhouse, and t-bone steak. Seafood options include garlic-crusted sea bass, fish, and shrimp, and well as the classic surf and turf with sirloin/lobster tails. Top it all off with amazing drinks and sumptuous deserts and you have yourself fine dining on the water.
The Fish House Grill:
Located near Wrightsville Beach, The Fish House Grill is one great place to enjoy fresh seafood and a phenomenal view. The Fish House is set along the Intracoastal waterway. Whether you're dining outdoors, or maybe relaxing with a cocktail, this is truly a great spot for dining on the water. You will be entertained as the bridge rises, and boats of all shapes and sizes sail on past the restaurant. The seafood here is fresh and diverse, offering a variety of broiled, grilled, or fried fare. Menu items include buffalo shrimp, fried oysters, mahi-mahi, ahi tuna, and shrimp. This locale might be called the "fish house," but excellent seafood isn't all they do. The menu offers an amazing selection of chicken, salads, and an amazing smokehouse burger as well! The Fish House Grill needs to be on your dining bucket list.
The Sailfish at Marsh Creek Marine:
Love the concept of boats, marinas, great food, and amazing views of the water? Then you are in for a treat visiting The Sailfish at Marsh Creek Marine. This is more than just fresh and local dining, it's a true experience for anyone who just loves to smell that signature salt air. Located in the very back of Marsh Creek Marina, this is a prime eatery for anyone who doesn't mind the ride up to Middle Sound Loop Road near Scott's Hill in Northern New Hanover County. The Sailfish overlooks the northern end of the Intracoastal waterway, also giving spectacular views of Figure Eight Island, Butler Creek, Cedar Snag Creek, and Lee Hutaff Island. Aside from the breathtaking scenery, the menu will keep you coming back for more. Fare like baked crab bread, stuffed flounder, BBQ shrimp and grits, grilled shrimp tacos, the hot chicken sandwich, and boneless beef short ribs is enough to make any mouth water.
Food by the river and sea is part of what makes the greater Wilmington area so unique, especially when the food is coming from local waters. Here are some more waterfront dining options: