Discover Coastal Carolina
January 18, 2023
ISWebmaster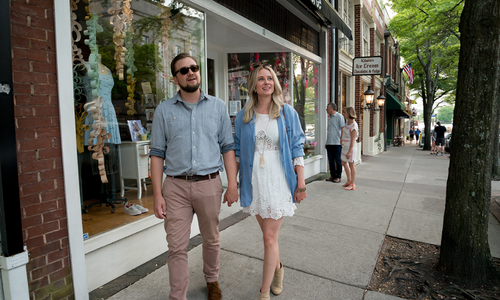 Paradise Is Calling
Sometimes the best way to know if a certain locale or community is right for you is to "try before you buy." However, that's rarely possible. Our Coastal Discovery Tour at Brunswick Forest is your golden opportunity to travel to coastal Carolina and see how our Coastal by Nature® lifestyle works for you! Think of it as your private reservation to finding the forever home that suits the vision you've always wanted.
What is a Coastal Discovery Tour?
If you're a fan of all things Brunswick Forest, then chances are you might have heard about our Coastal Discovery Tour more than a few times. But what do we mean when we say, "Coastal Discovery Tour?" It's a three-day, two-night stay package for two in gorgeous and historic downtown Wilmington. Being that you'll be only minutes away from our community here at Brunswick Forest, our Coastal Discovery Tour provides you with the perfect staging ground for immersing yourself in the culture of the local area.
Lots to Do
Not only will you have the opportunity to walk Wilmington's brick streets, shop at the Cotton Exchange or have a cup of coffee from Port City Java, you'll be able to tour Brunswick Forest as our team's special VIPs! This VIP community tour includes being chauffeured by one of our incredible team members. You'll explore a variety of different neighborhoods and home models to determine which could be the perfect fit! We will also set time aside to view everything that makes Southeastern North Carolina so beautiful. The pristine beaches, historical landmarks, and Southern charm speak for themselves.
Owner For a Day
In addition to getting to see all the sights and homes that you desire, we'll give you the keys to make you a full owner for a day, where you'll have access to all our luxurious amenities and communal features. This includes the Fitness and Wellness Center, tennis courts, pickleball courts, and walking trails. For that extra special touch, our team even gives all our touring visitors a choice between a horse-drawn carriage ride downtown or a scenic ride on the Cape Fear River, allowing perfect views of the Battleship and Wilmington waterfront.
Experience Us for Yourself!
Being the "off-season" for coastal Carolina, our mild year-round climate makes these next few months the perfect time to visit and experience everything our beloved coastal home has to offer you! You never know, you might just be the next neighbor residents see moving into Brunswick Forest. Know what it's like to feel as if you're on vacation every day by seeing our community and the greater Wilmington area for yourself. You can reserve your spot for a Coastal Discovery Tour on our website or contact our team at 833-497-1001 for more information! We can't wait to meet you.