December Home Decorating with Lynn Crawford
December 9, 2019
ISWebmaster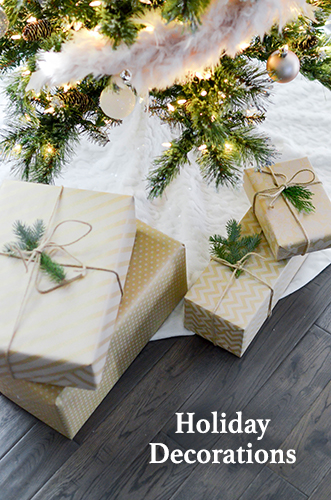 December is in full swing here in our community at Brunswick Forest, which means Christmas time will be just around the corner. It just wouldn't be Christmas around the neighborhood without a house being decorated from porch to roof for the season. Some residents choose to be more modest in decoration, while others decide to go all out and really let their Christmas spirit shine through! Whether you're thinking of white lights or animatronic reindeer, it's important to stick to a theme and make a positive impact for visitors and passersby. Luckily for you, we have all the knowledge straight from one of the best builder liaisons around, Lynn Crawford!
You might have read Lynn's tips and decorating tricks before in previous blogs, and now she's ready to get your home prepared for the holidays! As always, the most important takeaway from her suggestions, is that you make each design your own and have fun putting it together!
"Some people love to decorate their homes the same way every year. For many people it can be nostalgic and comforting to do so, and there's nothing wrong with it! Treasured family heirlooms can also add great significance in how a home is decorated. Collectable Christmas Village scenes, vintage ornaments and old sleighs are perfectly acceptable for this time of year. For those who are feeling a little bold, this year might be a good time to venture out beyond what you're used to," Lynn tells us. Listed below are some fresh new takes on old favorites that are quickly becoming a popular trend.
Flocked trees are a welcome addition for this time of year. The process of "flocking" your Christmas Tree involves dusting or painting it to make it look frosted. You can purchase them pre-made or choose to add your own personal touch. You can add a variety of do it yourself spray designs that will make the tree stand out. "Monochromatic ornaments work best for flocked trees, so keep themes like all gold or all silver in mind for decorations." Color-themed trees are also quite popular for the holiday. You can find a lot of black, white and gold themes showing up this year.
According to Lynn, it's a wise decision to theme your Christmas Tree to the same sorts of colors that can be found in your home. "Whatever your color scheme is, be sure to match your décor to it for a very unified look," Lynn says. Some people believe that the more tinsels and tassels you add to your tree, the more seasonal it looks. You might very well know someone who goes heavy on the garland, and that is fine as well. While we all want to have our Christmas trees look like the one that lights up at The Rockefeller Center in New York City, a minimalist design can be just as dashing! "A beautifully shaped tree with nothing but white lights can be a wonderful design. A cluster of trees with different heights can also make this concept work, so long as that theme is continued into other areas of the home. This can include the decoration of a mantle or dining room table," Lynn continues.
Regional themes can also add a lot of character to your Christmas Tree this year! Country themes are still going strong, such as garlands of popcorn, galvanized tree colors, and twine-made gingerbread men. Just make sure you don't have any little ones or pets who might pass by the tree for a little snack! Unfinished or painted wood ornaments also add a classic touch. "You can even get really creative and go with a Christmas in the Carolinas theme. Moravian stars, white magnolia blossoms, branches of cotton and pinecones grow right in our local area for free! Spanish moss can also be gathered from trees or ordered online, so you can give your home all the spirit of coastal NC even during Christmas," Lynn concludes.
Whether you decide to stick with the classics or try some of these popular trends, make sure your home has a cohesive theme this holiday season. Most of all just let your inner creativity run free and have lots of fun while decorating!
Interested in learning more about Brunswick Forest? Contact us at 855.983.9579