December Festivities in Wilmington – Theatrical & Musical Events
November 27, 2018
Beth Burgee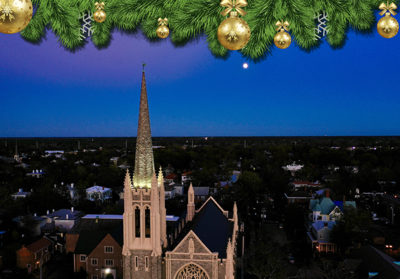 Sample the Performing Arts in Downtown Wilmington this Holiday Season
It's that time of year again to get into the Holiday Spirit and what better way to bring yourself and others some cheer than by attending some of Wilmington's many holiday plays and concerts happening in the month of December! Our Fitness & Wellness Center is also the place to sign up for special resident activities such as Christmas Caroling with Santa and his special "Reindeer", an activity where you can sing Christmas carols with Santa in a horse drawn carriage. Snuggle under warm lap blankets while enjoying the beautiful Christmas lights in the Historic Downtown Wilmington.  The downtown area is filled with many opportunities to sample the arts.  Here is a highlight of the various events you can go to this month:
Cape Fear Play House in Downtown Wilmington: 
Jacob Marley's Christmas Carol:
November 29th – December 16th. 
Thursday – Saturday Shows at 8:00 pm, Sunday Shows at 3:00 pm. Tickets Required.
Jacob Marley's Christmas Carol is a comical twist on the classic story of Ebeneezer Scrooge.
The Wilson Center in Downtown Wilmington:
A Carolina Nutcracker:
December 1st at 7:00 pm &  December 2nd at 3:00 pm. Tickets Required. 
Join The City Ballet with special guests from the Carolina Ballet as they perform this holiday classic with a unique spin as the play's setting begins at Wilmington's own Bellamy Mansion set in 1865!
A Charlie Brown Christmas:
December 8th at 2:00 pm. Tickets Required.
CFCC Humanities and Fine Arts Department presents A Charlie Brown Christmas with live actors and jazz music!
The Great Wilmington Nutcracker: 
December 15th at 6:00 pm & December 16th at 3:00 pm. Tickets Required.
The US International Ballet and Wilmington Ballet Company will be putting on this performance of the Nutcracker! If you saw the earlier Nutcracker show in December, you may still want to attend this one as it's a winner of Encore Magazine's "Best Theatrical Show in Wilmington".
The Beach Boys Reason for the Season Christmas Tour:
December 18th at 7:30 pm. Tickets Required.
Come sing along with the Beach Boys because there's nothing like getting in the holiday spirit while wearing a Hawaiian shirt!
Thalian Hall in Downtown Wilmington:
A Christmas Carol:
December 7th – 16th. Show times vary (visit link for times) & Tickets are Required. 
Enjoy a performance of this classic Christmas tale with Broadway stars bringing it to life!
3 Redneck Tenors:
December 19th at 3:00 pm & 7:00 pm. Tickets Required.
The 3 Redneck Tenors are a musical comedy act who were finalists from America's Got Talent that are prepared to keep you laughing all night!
UNCW Kenan Auditorium:
Homegrown Holiday with Zoe & Cloyd
December 8th at 7:30 pm. Tickets Required. 
Join this Americana Duo from Asheville, NC that will perform their original tunes as well as holiday favorites with an Americana, down home vibe.