Day Trip to North Carolina's Capital
November 14, 2017
Beth Burgee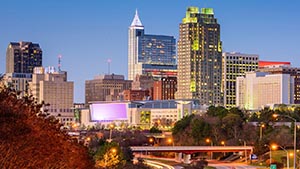 From Brunswick Forest, you are only a two-hour drive to North Carolina's capital city of Raleigh and there is a LOT to see in this NC town.
Rise and shine early, so you don't miss a beat of all this city has to offer.  If you leave at 6 am, you will be just in time for breakfast at State Farmers Market Restaurant or Big Ed's City Market.
Once you've fueled up for the day, set your sights on these museums and historic sites:
Break for lunch at one of these Raliegh-faves.  Each one offers a little something different, but all will leave you satisfied.
What's a trip to Raleigh without a little shopping?!  Head to Crabtree Valley Mall, North Hills Town Center or spin around the Raleigh Flea Market if you're in town on a weekend.
After a day on your feet, grab dinner and a cocktail at one of these Raleigh eateries:
Too tired to travel home, stay the night at one of these unique nearby havens:
Raleigh makes for the perfect day-trip or little get-away weekend from your Brunswick Forest home!
www.brunswickforest.com
888.371.2434