COOKING DEMO WITH CHEF RANDALL
February 13, 2015
Brunswick Forest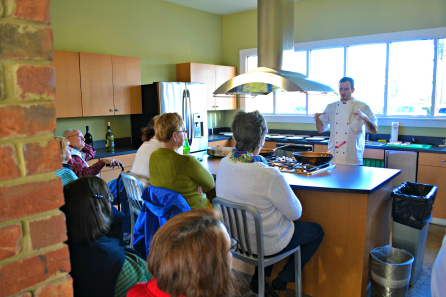 Cape Fear National's Chef Randall Potter stepped outside of the kitchen last week to host a cooking exhibition at Brunswick Forest's Community Commons. The program, which was presented to a Brunswick Forest residents, included a full demonstration as well as a tasting.
STEP-BY-STEP INSTRUCTION
Potter took the guests through the steps to prepare a meal of seared wahoo, risotto, and sautéed vegetables. "Wahoo doesn't have a strong flavor," said Randall. "If you cook it right, it resembles the taste of chicken." He seasoned the fish generously with salt and pepper, seared it for about a minute on each side then finished the cooking in the oven. Meanwhile, he prepared the risotto, which he had started to cook earlier in the day in his kitchen at The Forest.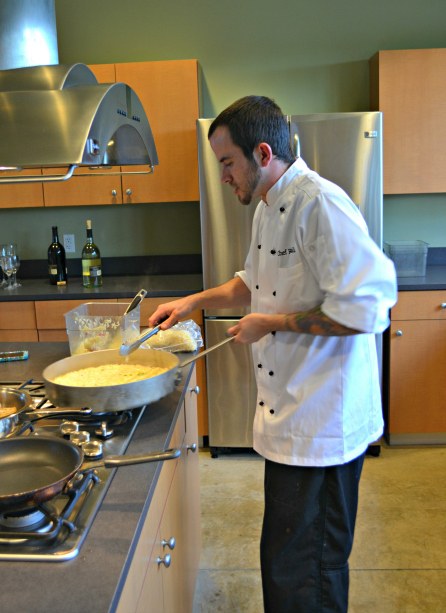 "Risotto is one of my favorite things to cook," said Potter. "It's versatile, it goes with a variety of dishes and you can add any kind of vegetable you like to it." He cautioned the guests not to add vegetables until near the end of the risotto's cooking time, or else they would absorb too much of the dish's liquid. Another pitfall to avoid when preparing the traditional Italian dish was to be sure and not overcook the rice. "It should have a little bite to it," he said. His other tip for preparing the perfect risotto was to make sure to add in plenty of cheese. "You can never have enough cheese in my opinion," he said as he spread parmesan liberally over the hot rice.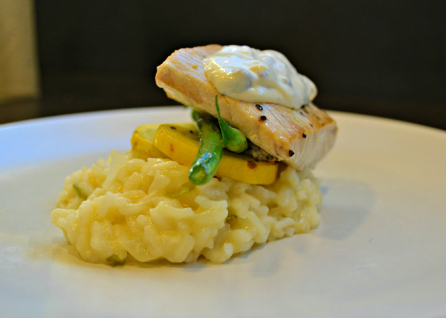 TAKE PART IN AN UPCOMING DEMONSTRATION
Want to attend a cooking demo with Chef Randall? Another one will be held Monday February 16th at 4:30 pm at the Community Commons. The demonstration is $15 per person. Sign up at the Fitness and Wellness Center reception desk or by calling 910.342.2215.
888.371.2434
www.BrunswickForest.com