Commitment to Community: Meet Maureen Ruddy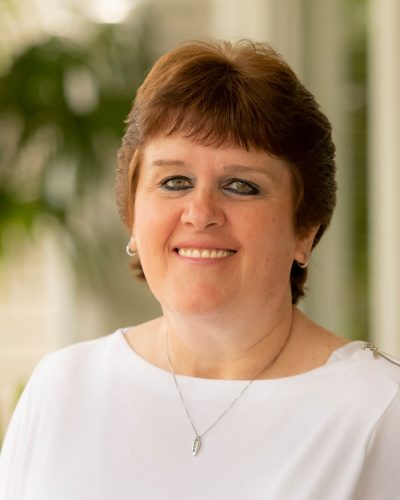 At the heart of Brunswick Forest is a group of hard-working individuals. Whose zeal and commitment bring our coastal master-planned community to life. We want to introduce you to one of those individuals, Maureen. A true gem at Brunswick Forest! Let's learn more about this exceptional employee who is one of the faces of our Welcome Center.
From North to South
Like many of our residents, Maureen is originally from the Northeast who relocated to Southeast North Carolina.  Having never been to North Carolina, we asked Maureen what attracted her to the greater Wilmington area.  "I was told about the Wilmington/Leland area by a friend in New York who was thinking about relocating to the area. Living in NY as well, I decided to research it for myself and then actually visited the area to check it out – I was hooked. The weather is great, the lifestyle was the change I was looking to make and just how friendly all the people were – all of this really convinced me this area was the place for me." 
Southeast North Carolina is definitely becoming known for hooking Northern residents, and we can't blame them!  The coastal lifestyle is one that is hard to compete with, especially when you add in beautiful master-planned communities, such as Brunswick Forest, with the availability of new homes and amenities offered.
Passion for Community
During the time that Maureen has worked at Brunswick Forest, she has become an integral part of the community. She is friendly, kind, and welcoming to everyone she meets, and she is always willing to go above and beyond to help residents and guests with whatever they need. 
So, we wanted to know, what can people expect when they first walk into the welcome center?  Maureen answered, "When folks walk through the front door of the Brunswick Forest Welcome Center they can expect to be welcomed with a warm greeting and a friendly smile."  Having a background in hospitality, she is quick and breezes through multi-tasking while making sure everyone feels at home when they visit.  She may be a New York native, but the Southern charm has taken root in Maureen!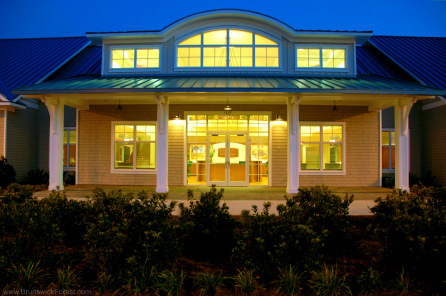 Roles & Responsibilities
As the "Director of First Impressions" at Brunswick Forest, Maureen is responsible for ensuring that everyone who enters the community feels welcome and valued. She is the first point of contact for visitors. And is always happy to provide information about the community, its amenities, and the surrounding area. She also helps residents with a variety of tasks. This includes making reservations, scheduling appointments, and coordinating events.  Maureen begins each day with a positive attitude, so what's her secret?
We asked Maureen what she loves most about her job.  "At the Front Desk, a lot goes on throughout the day and no one day is the same. If I had to pick one thing I love about my job, it is all the people I get to meet or talk with daily and be able to assist them the best way I can."  As most people know, hospitality is not for the faint of heart, but Maureen's grit, ethics, and charisma make her an exceptional asset to our team.
A Positive Impact
Maureen's impact on Brunswick Forest cannot be overstated. She is known throughout the community for her warmth, kindness, and helpfulness. She has made a positive impact on countless residents and guests. Her friendly demeanor and willingness to go above and beyond have earned her the respect and admiration of everyone who knows her.  These traits are invaluable to Brunswick Forest, especially during the busy summer months.
Summer livens up the coastal community and amenities are used more often. Also the fact that buying/selling of homes increases as demand increases.  This summer is no different, as our master-planned community continues to gain traction and popularity.
What is Maureen looking forward to the most in Brunswick Forest this Summer?  "The continued growth in the community – seeing new neighborhoods being created along with meeting all the new folks that may join us." Maureen is a shining example of what makes Brunswick Forest such a special place to live, and we are lucky to have her!
Want to Know More?
Know someone who is searching for a home to call their own? Then let them know about Brunswick Forest! We're a coastal, master-planned community nestled beside Wilmington, NC complete with pools, various courts, a gym, and a familial-like community.  Every home is different with a multitude of options and designs to choose from.
The last thing asked Maureen was- is if someone was considering Brunswick Forest for their new home, why would you say they were making a great choice?  "Brunswick Forest is a beautiful community that offers its residents lots of amenities and a very active lifestyle. It's a very welcoming community and there is something to do for everyone!"
If you're interested in learning more about Brunswick Forest or scheduling a Coastal Discovery Tour, give us a call at 866-832-1141.