Coastal Dance Academy, Inc Opens Their Doors in Brunswick Forest!
August 18, 2018
Beth Burgee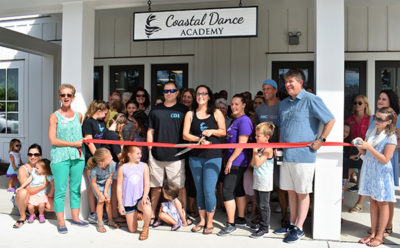 Coastal Dance Academy, Inc. opened their doors this morning to celebrate the completion of their new studio in Brunswick Forest!
The brand new studio was built by PBC Design + Build and is located across the street from the Brunswick Forest Welcome Center. Previously located in the Walmart Shopping Center in Leland, the founder and director of CDA, Sara Misti Clemmons, is thrilled to see the new studio come to life in their new location.
Coastal Dance Academy is in their sixth year of operation and offers training for students that want to come for the recreational, fun part of dance as well as for the more serious student that plans to make dance his or her career. Offering classes for children of all ages as well as select classes for adults, this studio is a welcome addition to the Brunswick Forest community.
The expansive studio opened their doors to the public on Saturday morning for their Grand Opening Ceremony and was well attended by current students and their families, the PBC Design + Build team, North Brunswick Chamber of Commerce, Brunswick Forest residents, as well as others in the local community.
PBC Design + Build has received numerous awards and accolades, and their experience includes a wide variety of home types and lot locations. They not only build quality, custom homes, they also handle renovations and urban development. Plantation has a long list of highly satisfied clients who gladly recommend them to future homeowners.
To find out more information on Coastal Dance Academy, check out their website and follow them on Facebook!
21253
false
false
true
false
true
true
false
auto
false
ease-in-out
300
false
0
true
false
%curr% of %total%
www.BrunswickForest.com
866-831-8289