Coastal Dance Academy Continues to Bring Adult Classes to their Schedule
October 26, 2018
Beth Burgee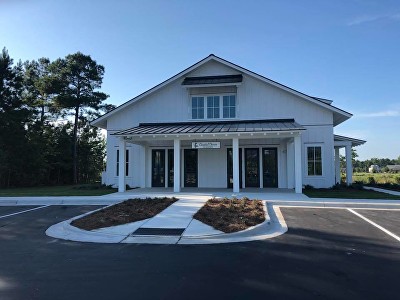 Opening their doors this past August, Coastal Dance Academy is located across the street from the Brunswick Forest Welcome Center and is in their sixth year of operation. They offer training for students that want to come for the recreational, fun part of dance as well as for the more serious student that plan to make dance part of his or her career.
While Coastal Dance currently offers many classes for children in the evenings, the studio owner, Sara Clemmons, is ready to expand their adult class offerings and bring more Brunswick Forest residents through her doors. Partnering with two Brunswick Forest residents, Rosemary Parker and Kathy Desmarais, the trio hopes to grow the dance community in Brunswick County and bring more adult classes to Sara's brand new studio.
Hosting a "Let's Dance" event on December 8th, Kathy Desmarais, hopes to bring new faces through the studio doors and get some feedback on what the community would like to see offered as we move into the fall and winter months.
Rosemary Parker leads several of the adult classes at Coastal Dance Academy and hopes to continue to grow and expand her class offerings. Their upcoming sessions includes a 3-week partner session that offers Fox Trot, Salsa, Cha Cha and Rumba classes in the evening three days a week. They need at least five couples to hold the session and one private lesson is included in the package.
Additional adult class offerings include a 'Wake up and Dance for Singles" that is offered three days a week from 10:00-10:45am. This class is open to those that do not have a partner and it's being offered as a a 6-week session in the studio. The class gives students the tools they need in order to go out on a dance floor and feel comfortable dancing with a variety of partners in all of the basic 6 dances.
The 6-week adult Vinyasa Flow Yoga and Barre Fusion classes are also available in the studio throughout the week. Drop-in's are welcome to attend if there is space available.
Their brand new studio was built by PBC Design + Build, who has received numerous awards and accolades. Their experience includes a wide variety of home types and lot locations. They not only build quality, custom homes, they also handle renovations and urban development. Plantation has a long list of highly satisfied clients who gladly recommend them to future homeowners.
Stay up to date with Coastal Dance Academy's classes and events by following them on their Facebook page.
22215
false
false
true
false
true
true
false
auto
false
ease-in-out
300
false
0
true
false
%curr% of %total%
www.BrunswickForest.com
866-831-8289