Chills and Thrills Downtown: The Ghost Pub Crawl of Wilmington!
October 11, 2019
ISWebmaster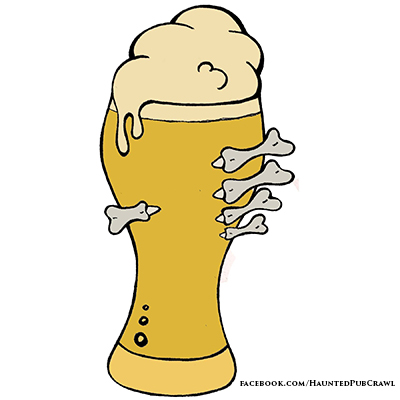 BOO! There's so much to do both inside and outside Brunswick Forest during the year, it's scary! The leaves begin changing, the air gets cooler and people begin swapping chilling stories from the past. A good ghost story is a great way to get into the October spirit! What better way to tell a frightening ghost story than to combine it with a pint of cold beer? If you're looking to add some chills to your thrills, then the Haunted Pub Crawl in downtown Wilmington is just what you're looking for!
Where: downtown Wilmington. 8 Market Street, 28401
When: October schedule is every Wednesday – Saturday starting at 7:30pm (arrive by 7:10pm)
Cost: $17.50 per person (does not include drinks and tips)
Must be 21 or over to join
One of North Carolina's most famous port cities is old Wilmington. The Port City is full of historic buildings, rich with history. Sometimes, certain pieces of history stay around longer than others. Many of the old buildings served different purposes before being transformed into bars and breweries. It's no big surprise that the haunted history of Wilmington is very much alive! Experience chills down your spine in more than one way, as you hoist a mug of suds while on a two and half hour guided tour of some of the best pubs in town! Guests will be grouped together and travel with a guide through several locations, which each have their own histories steeped in ghostly lore. The Haunted Pub Crawl is one of Wilmington's best haunted attractions and has been featured in Our State Magazine, Southern Living, The Daily Buzz and even the History Channel!
Some of the haunted pubs frequented on the tour include the buildings of Blue Post Billiards, General Longstreets Bar at The Orton Pool Hall, Lula's and Growler's Tavern. The history of many of these pubs, and the stories associated with them, is enough to put anyone's hair on end! Guides will walk guests through each bar, allow them to grab drinks and then tell them about the history of each building. The scandalous, tragic and in many cases mysterious history will come alive for you as your group walks to each location. You might catch a glimpse of an actual ghost, or maybe you'll realize your eyes are playing tricks on you. Overall, the Haunted Pub Crawl is one ghoulish time and is a lot of fun when attending with friends!
What's better than getting to do something fun and enjoy a few beverages while you're at it? If you haven't yet uncovered the historical significance of the buildings in downtown Wilmington, Brunswick Forest encourages you to kick your October off right with a Haunted Pub Crawl. Even if participants aren't looking to drink, you must still be 21 or over to sign up! Tickets and information on the Haunted Pub Crawl can be found at The Black Cat Shoppe in downtown Wilmington, or you can purchase your tickets online here: https://www.hauntedwilmington.com/haunted-pub-crawl.html