Cheers! Raise a Glass to Local Craft Beers in Wilmington
August 9, 2019
ISWebmaster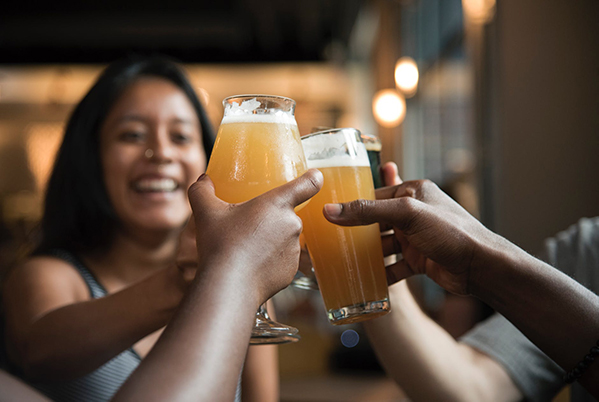 On a hot summer's day down South, there are few items that will quench your heat riddled thirst quite like an ice-cold beer. North Carolina has always been known for its local agriculture and produce, as evidenced by the number of farmer's markets that you can visit throughout the year. But, as of recent years, the Wilmington area has begun a renaissance in embracing a new kind of local product; microbrewing. From frothy cream ales to refreshing lagers, downtown Wilmington and the surrounding areas provide local beer lovers with plenty of enjoyable brews to choose from!
Despite being known originally for products such as turpentine, cotton, and tobacco, the roots of brewing beer run deep in North Carolina. The state was home to the first known English colony on Roanoke Island in 1585, who's residents would drink beer as a form of nourishment. After the calamity of World War II was over, beer consumption in North Carolina began to increase dramatically. Factors such as a sudden influx of younger populations to the area, increased advertising and higher incomes contributed to this sudden demand for beer. By 1989, North Carolina had become one of the most beer-loving states in America. Today, the Wilmington area has been known for its sudden explosion in the craft brewing industry, also known as microbrewing. Microbrewing is the process of brewing beer in smaller batches under the control of smaller, and often local breweries rather than big name national brands.
The process of microbrewing often leads to exceptional recipes being brewing by creative minds, making each sip a riveting experience. Here are just a few of the great breweries you can visit when you're in historic downtown Wilmington:
Being Wilmington's first major microbrewery, Front Street Brewery has a lot of history to its location and has been proudly serving thirsty patrons for decades. The location has a classic atmosphere about it and serves a bedazzling menu of hearty pub food and beverages. Most famously of all, Front Street Brewery is known for brewing some of the freshest varieties of beer that you'll find anywhere! Their specialty brews include their Coastal Kolsch, Riptide Raspberry Wheat Ale, Port City IPA, Amberjack English Ale and Dram Tree Scottish Ale! Seasonal beers are also a common treat if you can find them on tap! Guests are free to buy a growler bottle to fill with beer to take home, and even get a tour of the brewery itself. Brewery tours take place every day from 3:15pm and 4:15pm and are free to participate in! When local Wilmingtonians think of "fresh local beer," they'll often point you in the direction of Front Street Brewery! It's a local favorite that shouldn't be passed up.
Though it's one of Wilmington's newest microbreweries, Waterline Brewing Company is by no means lacking in history. Operating out of a repurposed hardware warehouse that was built during the 30s and 40s, this charming establishment preserves the look and feel of old structures with the technology you would expect of any modern brewery. Using a state-of-the-art steam fired brewing system, Waterline Brewing offers plenty of brews to wet your whistle. Some of their brews include their Waterline Kolsch, Pale Ale, Red Ale, Classic IPA, Cream Ale, Oatmeal Stout, and Tripel. Surrounded by hearty sections of timber and cinderblock, Waterline Brewing has the perfect atmosphere to end your day. There are even open space areas to play activities like cornhole and outdoor seating to take advantage of. On a clear day, you can enjoy a beer outside while watching the sunset over the Cape Fear Memorial Bridge just overhead.
Brewing in the city of Wilmington, North Carolina since 2014, the Ironclad Brewery also focuses on providing quality beer in an environment that harks back to the early days of Wilmington. Situated in a historic 1925 downtown building, that's been painstakingly re-furbished, Ironclad Brewing taps into making patron's experiences a memorable one. Just like the craftsman of years past who forged Ironclad ships in the American Civil War, Ironclad Brewing hand crafts all their beer in-house, such as their Old Baldy Golden Ale, White Pale Lager, Guapa Guava Lager, Kinetic Effect Pale Ale and Scuttlebutt IPA. You can even choose to sample multiple varieties of the beer they offer with their four-ounce tasters. With over 10,000 square-feet of usable space, Ironclad Brewing is perfect as an event venue and can accommodate up to 500 people!
Brunswick Forest is all for our residents and aspiring residents to enjoy all the culture that the local scene has to offer. Downtown Wilmington is the perfect place to start any brewing adventure, and its only minutes away from the amenities at Brunswick Forest. So, raise a glass to great coastal living, and make one of these amazing local breweries your next stop!
There's plenty of other craft microbreweries in the Wilmington area that you can also visit, here's just a few of them: