CHASE NEMETH AN ENGLISH SETTER OF BRUNSWICK FOREST
July 20, 2012
Brunswick Forest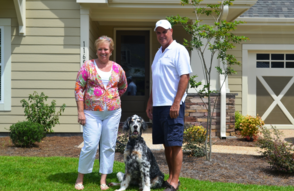 Woof (Hello)! I'm Chase Nemeth,
In April 2012, I moved to my new home in Brunswick Forest with my mom and dad, Barbara and Frank Nemeth. We are the very first family to move into the new Evangeline Town homes, and I love it! The spacious floor plan gives me room to roam, but also lets me know exactly where my parents are, which is perfect for me.
I convinced my parents to make a move from chilly Pennsylvania to the beautiful coastal south and now we have a beautiful second home! I love living in this amenity-rich community as much as my parents do, and greatest of all are the miles of trails that I get to walk everyday. I love being outside in the perfect coastal Carolina climate!
I am an English Setter and my breed is one of the oldest gundog breeds according to the American Kennel Club. I originally came from England more than 400 years ago, and am known for my affectionate, gentle, and loving personality as well as my "pointing" abilities! Although I am comfortable in both warm and cold weather, I think I have become partial to being a beach bum!
After only living here a couple of months, I can definitely say that I call Brunswick Forest "home." If you happen to see me walking the trails or playing at the dog park, please stop and say "hello!" I love meeting new friends!
Woof! Woof!
Chase Nemeth
888.371.2434