Carving a Future for Our Children: Interview with Burt Rosner
September 18, 2019
ISWebmaster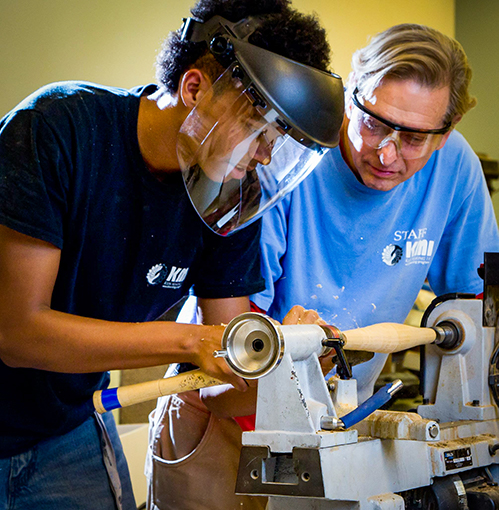 If there's one descriptive term that defines what it means to live at Brunswick Forest, it's "community"! Residents who live in our master-planned community are always looking for ways to support one another, no matter what neighborhood they live in. They bond with one another through various activities and clubs. Greatest of all, our residents are always looking for ways to give back to our local area. For one resident, Burt Rosner, a passion for crafting has now evolved into helping the youth of our local area find purpose in life.
Burt has become quite fond of woodworking in his spare time. "You know, I've always enjoyed activities that I can do with my own two hands. I used to be into mechanical drawings and drafting, so woodworking became a natural extension of that. I love making things to my own specifications and building whatever I want," exclaims Burt. Over time, he became involved in a woodworking club at Brunswick Forest.
It was here that he first got to experience a special local program called Kids Making It. Kids Making It is a special program that reaches out to at risk middle schoolers and teenagers who often come from less than ideal neighborhoods. "What I do is team up with other like-minded woodworkers, and we will often set up workshops where kids of all ages can learn how to create their own crafts. We usually have separate classes for middle schoolers and then one for older teenagers too," Burt explains.
Burt also highlights how surprised he was to learn how many young people don't have shop classes or outlets for them to learn practical skills that will help them in life. So, programs like Kids Making It give them opportunities to do so. "We'll teach our students how to use various types of tools and woodworking equipment and guide them to build their own items like shelves, pens, bookcases and other useful pieces. Best of all is that they get to sell their work for profit, so they earn money while learning useful skills they wouldn't otherwise have," says Burt.
Both the kids and volunteers who help have a lot of fun according to Burt. Best of all, is that Kids Making It not only provides youth with a healthy hobby, but also can lead to actual work for them. "The kids take the skills they are learning very seriously. A lot of what they learn through this program ends up landing them opportunities for the future. This Old House from PBS has even appeared at the events looking for interns, and one kid that we helped was recruited! It was amazing," exclaims Burt.
Burt has been participating in the Kids Making It programs for about five years, but he never tires of it. Just goes to show how far Brunswick Forest residents will go to give back to their communities. "Everyone here at Brunswick Forest is tightly knit. There's always so much to do with these fantastic people. It's perfect," Burt concludes. You can learn more about Kids Making It by visiting their website or their Facebook Page!