CAPE FEAR NATIONAL CELEBRATES FIVE YEAR ANNIVERSARY WITH A WEEK OF EVENTS
June 3, 2015
Brunswick Forest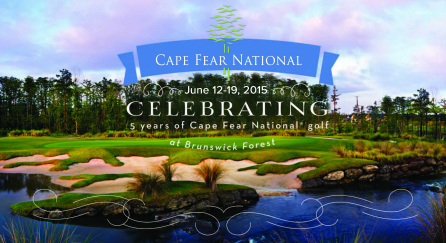 Cape Fear National is proud to celebrate its five-year anniversary this month with a week of events and fun and a very special Coastal Discovery Weekend!
Since it's opening in 2010, the golf course has seen huge success and has received numerous accolades, including being named #11 for the "Best Courses You Can Play in NC" 2013 and 2014 by Golfweek, and Top 10 Best New Courses 2010 by Golf magazine. "We are beyond thrilled to celebrate this milestone and to mark five successful years in business," says Cape Fear National Professional, Adam Clark. "We wanted to do something special and significant to mark the occasion, and we hope the public will join us in commemorating five years as one of the area's finest golf courses."
The fun begins at Cape Fear National with a VIP Celebration at the clubhouse Friday, June 12th that will include speeches, toasts and a cake-cutting event.
Saturday, June 13th, the public is welcome to attend a special summer concert by the Wilmington Big Band at Brunswick Forest's Annsdale Park from 6 to 9 pm. In addition to the live music there will be a putting contest and golf course giveaways.
Sunday, June 14th, Cape Fear National will hold a celebration brunch at The Forest with two seatings available: 10 am and 12 noon. Reservations are required. Please contact the clubhouse to make your reservation 910.383.3283.
Tuesday, June 16th, The Forest will celebrate by rolling out a whole new dinner menu. Join us in trying out a brand new selection of tasty dinner entrees from Chef Randall Potter.
Wednesday, June 17th, The Forest will serve signature Cape Fear National burgers for $5 each from 11 am until close.
Friday, June 19th, Cape Fear National's clubhouse will hold a special Five Year Anniversary Pub Night with $5 specialty drinks and $5 appetizers all night long.
Saturday, June 20th Cape Fear National will hold the Brunswick Forest Championship golf tournament.
We hope you can join us for some of the special events and help us celebrate five fantastic years with many more to come! To learn more or to book your Cape Fear National Coastal Discovery Weekend, call us today!
888.371.2434
www.BrunswickForest.com