BUSINESS OWNERS IN THE VILLAGES AT BRUNSWICK FOREST RECEIVE AWARDS AND ACCOLADES
July 19, 2016
Brunswick Forest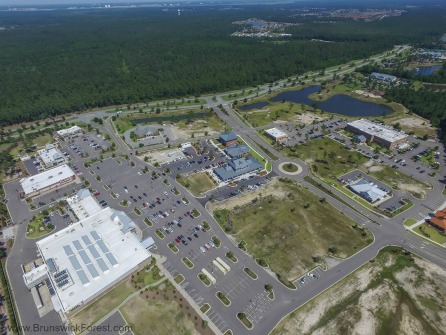 Located right within the community of Brunswick Forest, The Villages at Brunswick Forest offers 160 acres of commercial space for residents' convenience. Enjoy shopping, dining and medical services, all right outside of your doorstep! We are proud of all of our businesses in The Villages, especially award recipients like State Farm and Murray Signs and Graphics.
JOSH LONDON AND STATE FARM
Josh London, agent at State Farm in The Villages at Brunswick Forest received the "Business of the Year" Award from the North Brunswick Chamber of Commerce. Josh has been in business in The Villages since 2011 and he and his team are overjoyed to be recognized for their efforts. "To say my team and I are honored would be an understatement," says London. "We have worked hard since we opened December 1, 2011 to make sure that we were involved in the community, maintained the highest ethical standards and treat everyone with professionalism, courtesy, respect and, when needed, empathy. We are so grateful that we have been welcomed into this fantastic community and have enjoyed watching it grow!"
MURRAY SIGNS AND GRAPHICS
Murray Signs and Graphics, formerly, Murray Art and Frame, is excited to announce their new business model and offerings for Brunswick Forest residents. The business now offers full-service graphic design and printing services with a full-time graphics designer and artist to on-staff to help you with your project, no matter how big or small. George Murray, owner of Murray Signs and Graphics, is, like Josh London, an influential and award-winning business owner in The Villages. In 2010, he was awarded the Audrey Award by the North Brunswick Chamber of Commerce. This prestigious award is given to business owners who have done good things to benefit the community. As a former president of the Chamber and a founder of the Leland Rotary Club, George's positive influence has had an impact on the community beyond his successful business in The Villages.