Conveniently Located Builder Design Studios
December 20, 2018
ISWebmaster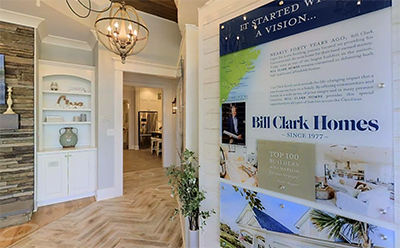 Amongst all the amenities that our residents have come to indulge in, here on the Carolina coast, one of our crowned jewels is The Villages at Brunswick Forest.  What better way to make a lavish lifestyle here in Leland, NC than to have everything you need within easy reach?  With an abundance of shops, dining establishments, and even a dedicated pickleball facility just inside the Brunswick Forest entrance, you never have to travel far from home.  Now, you can choose more than just a selection of places to shop and dine.  What if picking out the design of a new dream home in Brunswick Forest was within easy reach as well? What if you could have easy access to premium designs from some of the best builders around?  With additions to the Brunswick Forest design studio taking place, such a desire is that much more a reality.
The Villages at Brunswick Forest will soon have a hefty upgrade to its local design studio, with builders True Homes and Legacy Homes to enhance an already impressive display of options for aspiring residents.  Logan Homes and Liberty Homes also have design studios near the community.  Liberty Homes is gearing up to build an entirely new center, less than a mile from our community to better serve their clients. Liberty's Bryan James says, "We are working hard on the new design center and it should be completed in late winter.  The New design center is going to give the homeowners a lot more choices for their selections for their new home.  We have some great new products that we will be showcasing!"
They say variety is the spice of life, and variety is certainly something that residents get here; everything from crown molding to the best appliances.  Shower head choices for a little functional flair? An abundance of choices for floor and wall tile? All, and more, are here, to add additional charm to the home you desire to live in.  All of the builders uphold strict standards of quality to build your home precisely the way that you want it to be. With so many choices, it's hard to go wrong!
With the design studios located in The Villages at Brunswick Forest  and nearby, convenience is premier for new Brunswick Forest residents visiting their property and designing their home. No matter what you're planning here at Brunswick Forest, we're ecstatic to give aspiring residents even more options to create an easy new life down on the coast, exactly as you've imagined it.  That's our standard of fine coastal living.