Build Your Dream Home in July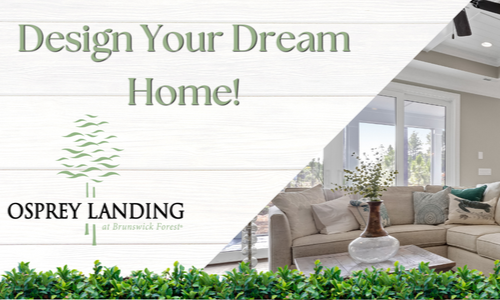 What makes a dream home? It is not just architectural beauty and design bespoke to your tastes (though, since we specialize in it, we know it helps). Or the surrounding peace of beautiful landscaping. From walks along the dunes to a cool breeze coming off the waves–a dream home is about living in the perfect place, a gathering point for all those you love and the new people who will come into your life.  
This summer, it's time to make your coastal dream a reality. Osprey Landing, an exclusive pocket neighborhood nestled in Brunswick Forest, will be having its official property release. It's time to pick your best landing spot and get ready to come home. 
Osprey Landing
An enclave of coastal charm, Osprey Landing is designed to foster the warm neighborly culture Southeast NC is best known for. Whether you're going to borrow a cup of sugar or take a meditative walk, you will love strolling the sidewalk-lined streets and lush waterways winding through classical Coastal cottage architecture. 
From the intimate 88 homesites available, neighbors-to-be can choose between waterfront or nature view properties, with prices starting in the mid $100s. And that's where our preferred builders will step in to help you design a home that reflects your unique vision with an eye to the luxurious living that Brunswick Forest is known for.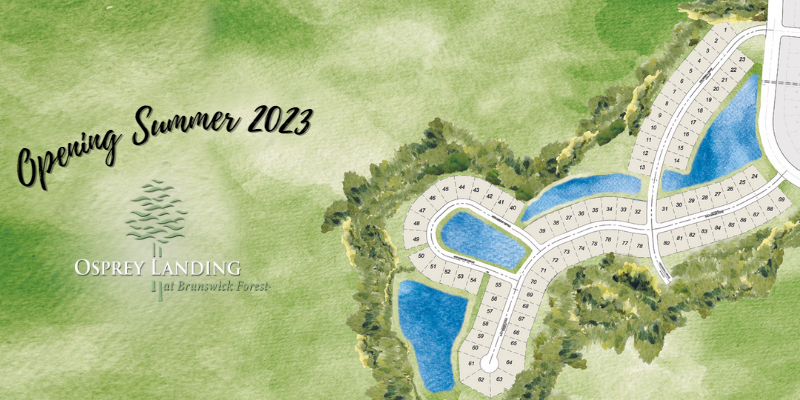 Every home in Osprey Landing will feature gourmet kitchens, spacious master suites, and beautiful outdoor living spaces from porches to landscaping. Homeowners can choose customized touches such as coffered ceilings, contemporary fixtures, and rest easy in the knowledge that their home will be built to structural perfection. 
July Coastal Homes Showcase  

Need to see it to believe it? During our Coastal Homes Showcase, from July 13th-16th, we'll be offering up a delectable taste of life in Brunswick Forest. Envision your dream home on a self-guided tour of our model homes and meet with our team of preferred builders to begin shaping it into reality. 
And with that settled, sit back and enjoy the best that life in Brunswick Forest has to offer, with all the fun events, fantastic meals, and exciting activities we have planned for you. Visit our robust amenity centers or go bird sighting along our bespoke walking and biking trails. Venture out to one of our 7 nearby beach towns (what better to do in July?!), or take in a world-class performance at Wilmington's Wilson Center. You might need to move in to enjoy it all. 
Give us a call at 833-497-1001 to plan your visit to Osprey Landing or make an appointment online. Space is limited and demand is high for this new neighborhood, so make sure to secure your spot on our VIP list  today!