Brunswick Riverwalk at Belville
June 30, 2018
Beth Burgee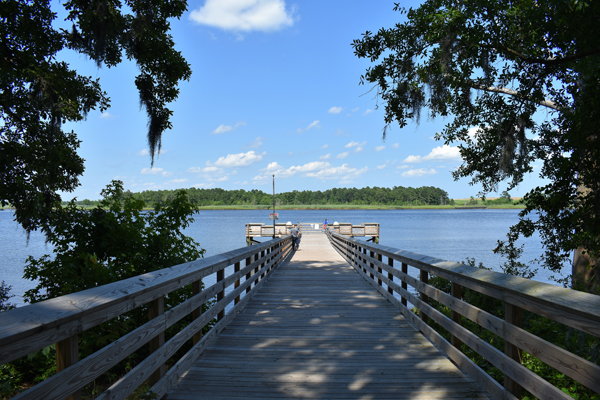 The Brunswick Riverwalk Park at Belville sits along the Western banks of Eagles Island on the Brunswick River and is an area attraction that you don't want to miss out on!
Located less than 10 minutes from the front of our community, the Brunswick Riverwalk Park includes 3 picnic shelters, 2 playgrounds, 1/3 mile walking trail, boardwalk, nature trails, restroom facilities, and a viewing deck overlooking the river. The park also has a boat access, primarily suitable for kayaks, canoes, or smaller sized boats and a 125-foot fishing pier on property.
Embarking on a multi-phase project to create one of the largest environmentally friendly, historical, recreational and teaching facilities on the entire Eastern seaboard, the Town of Belville opened the first phase of the Brunswick Riverwalk in May of 2016.
Focusing on creating a hub for healthy living, the park has continued to undergo extensive additions and improvements since 2016. Most recently, the park added a new Farmers Marketplace Shelter for their weekly market as well as the Coldwell Banker Seacoast Advantage Cultural Arts Pavillion that will be used for a variety of events. Creating a space for the community to gather has allowed the park to continue their growth and development through the years.
Since the spring of 2017, Seaview Crab Company has found a home in Brunswick County. Selling locally caught, fresh seafood in the Cape Fear Region for more than 10 years, Seaview Crab Company decided to open its first open air market in Brunswick County right here at the Brunswick Riverwalk Park. Setting up their stand every Thursday-Sunday under the new Marketplace Shelter, Seaview Crab Company sells fresh, locally sourced seafood and produce to the community.
Port City Produce, a well-known fresh farm market out of Wilmington, also sets up alongside Seaview for their weekly farmers market, offering visitors some of the best produce in the area.
Home to several community events and festivals, there is always something going on at the Riverwalk. Hosting the Belville Founders Day event on May 4th, the event included a bouncy house, face painting, arts & craft booths, raffles, ice cream & food vendors, live music and more! This is one of many events taking place at the park every month.
Looking to enjoy a relaxing morning along the riverwalk? You can find it here. Known for bird watching, the 1,240-foot boardwalk is the perfect place to take a stroll and immerse yourself back into the raw, natural, uncut beauty of the Brunswick River.
Future plans for the Park include a raptor center, a restaurant, educational facilities and recreation facilities.
Stay in the loop with everything going on at the Brunswick Riverfront Park in Belville by following their Facebook page.
20550
false
false
true
false
true
true
false
auto
false
ease-in-out
300
false
0
true
false
%curr% of %total%
www.BrunswickForest.com
866-831-8289