BRUNSWICK FOREST'S UNCORKED WINE SERIES: A EVENING RECAP
August 31, 2014
Brunswick Forest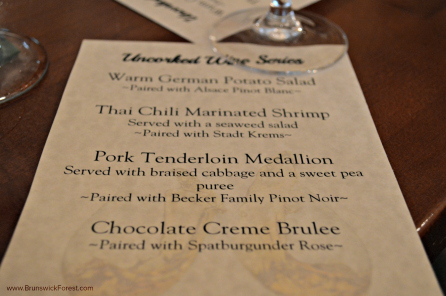 Brunswick Forest's Uncorked Wine Series takes place every month at The Forest at Cape Fear National. Each month, Master Sommelier Mike Lane and Chef Randall Potter bring residents a unique pairing of food and wine from a different region of the world. The event has become so popular with residents that they now have the "Uncorked" dinners two nights a month instead of just one to accommodate everyone that wants to attend.
AUGUST 2014: GERMANIC WINE PAIRINGS
This month featured German wines, however instead of sweet Rieslings, Lane selected four wines that were both delicious and surprising. The first course consisted of a warm potato salad with bacon that paired perfectly with a refreshing Alsace Pinot Blanc. "Pinot Blanc is far more acidic than Pinot Gris," said Lane. It was this acidity that made it a great match for the rich salad.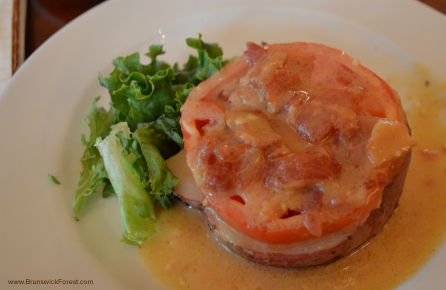 The second course was a Thai chili marinated shrimp and seaweed salad paired with Grüner Veltliner. "You will often hear this wine described as spicy," said Lane. "White pepper is usually one of the notes you will detect when drinking it."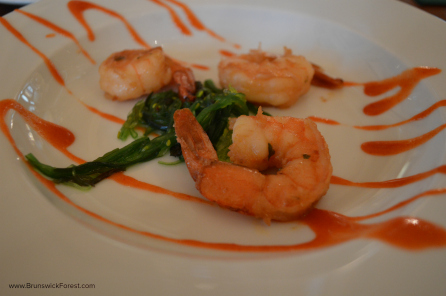 Next, seared pork tenderloin medallions were served over braised cabbage and a sweet pea puree. The wine was a Becker Family Pinot Noir that was full-bodied and slightly earthy. "Pork and Pinot are always a great pairing," Lane said.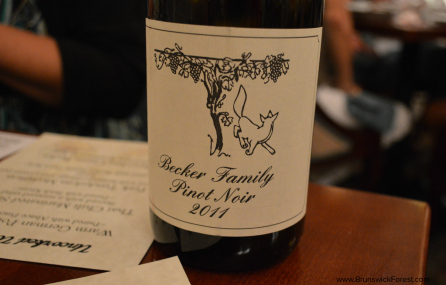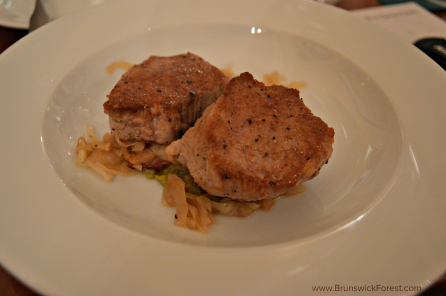 For dessert, guests were served chocolate crème bruleé with a side of spiced peaches and a Spatburgunder Rosé. The Rosé was bone dry and complimented the sweetness of the two desserts well.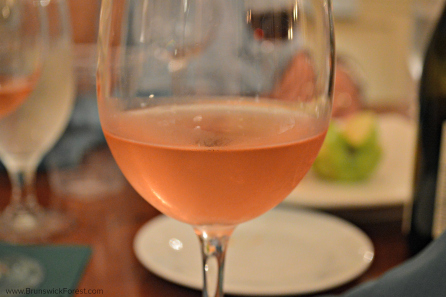 A MIX OF FUN AND EDUCATION

Brunswick Forest residents, Marsha and Jack Balsinger, have been to almost every one of the Uncorked dinners and said that they always enjoy the evening. "It's been fun, educational and the food is always wonderful," said Marsha.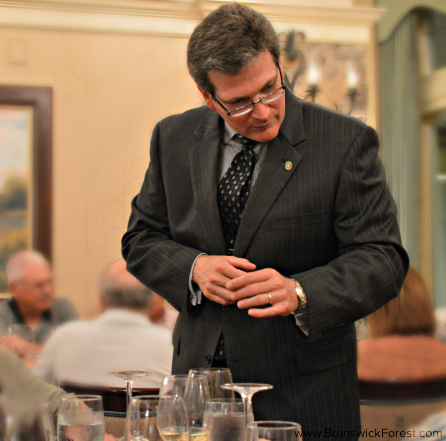 AN EXCELLENT CHEF AND STAFF
The real stars of the night were The Forest's chef and attentive staff. They were beyond accommodating with guests' food allergies and preferences and went out of their way to make sure that everyone was having a wonderful evening. Chef Potter explained that he is given the wines ahead of time to try so he can pair them with foods and develop the menu. Potter has worked at Brunswick Forest for the last three years and is passionate about bringing delicious cuisine to residents. "I put my heart and soul in to everything I cook," he said.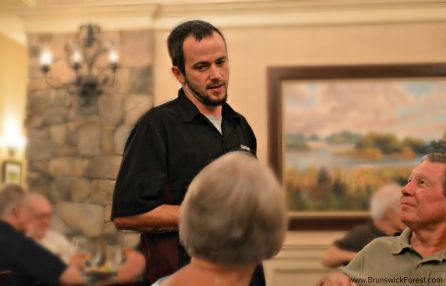 If you are interested in attending the next month's Uncorked Wine Series, email Cape Fear National with your interest and you will be put on their email list for this event and others like it.
888.371.2434
www.BrunswickForest.com