Brunswick Forest's November Homecoming Weekend
October 21, 2019
ISWebmaster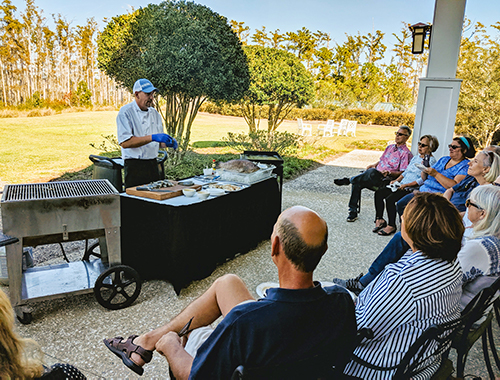 Imagine you could retire to a place where every day felt like you were on vacation. You could have access to biking and walking trails, two fitness centers, saltwater pools, nearby restaurants, beaches, premier healthcare and championship golf, all in a centralized location near historic downtown Wilmington. If this sounds appealing to you, then quickly RSVP for Brunswick Forest's November Homecoming Weekend! Join the team at Brunswick Forest from November 7th – 10th and experience what it's like to live a Coastal by Nature® lifestyle.
Enjoy the relaxing atmosphere of Brunswick Forest as we welcome you home! A grand reception will be taking place at the Welcome Center on Thursday, November 7th. You can mingle with future friends and neighbors while enjoying signature cocktails, libations and delicious appetizers, provided by Cape Fear National's Chef Scott Euvrard!
Friday, November 8th begins with a community clubs meet and greet event held at our gorgeous Fitness and Wellness Center. Here you can get to know some of our most popular resident sponsored activities, and see which club is the right fit for you! Experience the beautiful model homes in our community firsthand by enjoying a meal inside one, courtesy of PBC Design. Finally, you can round out the day enjoying dinner and beautiful riverfront view in historic downtown Wilmington.
Saturday, November 9th, you can look forward to breakfast in Brunswick Forest's Welcome Center. This breakfast is hosted by Legacy Homes, one of our 13 excellent homebuilders. Make conversation with knowledgeable representatives and ask them any questions you might have about the homebuilding experience. You can enjoy breakfast treats and delicious morning mimosas while mingling with industry experts. It's the perfect way to get your day started on the right foot, because there will be plenty of activities to engage in!
Pickleball is the perfect activity for the month of October! You can learn the game for yourself by attending the Pickleball clinic at Leland's House of Pickleball. Learn the basics of this versatile game and take advantage of a play package offered by the House of Pickleball's best instructors.
Have a deliciously good time watching our very own Chef Scott hold at cooking demonstration, on how to prepare local seafood!
Kent Homes is known throughout the Southeast for their quality floorplans, and you get to take a sneak peek at some firsthand! Enjoy lunch in a Kent Homes model and learn what all their floorplans have to offer to aspiring homeowners.
Nothing says coastal Carolina living like and old-fashioned Oyster Roast! You can round out the evening surrounded by nature and savor a delicious oyster roast dinner in a model home by Logan Homes. You'll also enjoy dancing away to great live music. Overall, you couldn't ask for a better end to a fun-filled Saturday!
Sunday, November 10th finishes with a catered lunch, complete with delicious wraps and salads inside of a beautiful model home by Liberty Homes.
All weekend long, you can take full advantage of our other amenities:
Keep in shape for an active lifestyle by enjoying our state-of-the-art Fitness Center.
Pick up a map and bike at the Welcome Center, and take a self-guided bike riding tour around our beautiful neighborhoods.
Improve your golf game with a lesson from the pros on Saturday or Sunday starting at 10am.
Mortgage representatives from BB&T will be on hand to provide you with financing information all weekend long at the welcome center.
Guests can also choose from one of the following four exciting activities, and get a taste of the local area:
Tour gorgeous downtown Wilmington the old-fashioned way, by taking a ride on a horse-drawn carriage.
View Wilmington and the Cape Fear River in a whole new perspective by taking a water tour.
Enjoy a round of championship golf for two at the renowned Cape Fear National golf course.
Play with a two-hour court rental at the House of Pickleball.
Truly get a taste of what the Brunswick Forest lifestyle is all about and see why we're ranked atop for master-planned communities in the entire nation! Be sure to RVSP by calling 833-630-8878, or by visiting homecomingweekends.com. Looking to spend even more time to discover Brunswick Forest and the surrounding areas? Be sure to ask about our incredible Coastal Discovery Package!