Brunswick Forest's Holiday Food Drive
November 20, 2017
Beth Burgee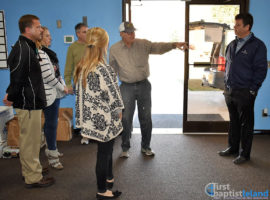 With the holiday season in full swing, everyone's focus shifts between finalizing travel plans, preparing to see friends and family and pulling out Grandma's favorite Thanksgiving recipes. While many of us hold long-standing family traditions that keep us busy during the holiday's, it's important to take time to give back to those in our community that may need a little extra help this year.
In the spirit of the holidays, Brunswick Forest partnered with First Baptist Church of Leland by holding a food drive for the local Food Pantry. Open to the public, the Welcome Center at Brunswick Forest served as a drop off location for non-perishable donations from November 1-17th.
First Baptist Church opens their doors to the local community the first and third Saturday of every month from
10:00-12:00pm to serve as a Food Pantry. With the holiday's being their busiest time of year, volunteers served 158 families this past weekend alone. It's the efforts of passionate volunteers that continue to make this operation successful and serves as a gentle reminder that a little help goes a long way.