Brunswick Forest's Boat Regatta 2022
April 15, 2022
ISWebmaster
A Boatload of Fun!
Spring is a great time to engage in outdoor fun. Brunswick Forest knows this, and that's why we're so excited for our upcoming April Coastal Homes Showcase Weekend. One of the best things about our showcase events is that the whole community gets involved. And perhaps the most lauded of our springtime events is the exciting Cardboard Boat Regatta!
What is a Regatta?
By definition, a "regatta" is a sporting event that consists of a series of boat or yacht races. Think of an exciting race with homemade boats racing across Hammock Lake, and you've got a solid picture of what our regatta is all about. There will also be plenty of live music, food, drinks, and opportunities for guests to bond with our residents!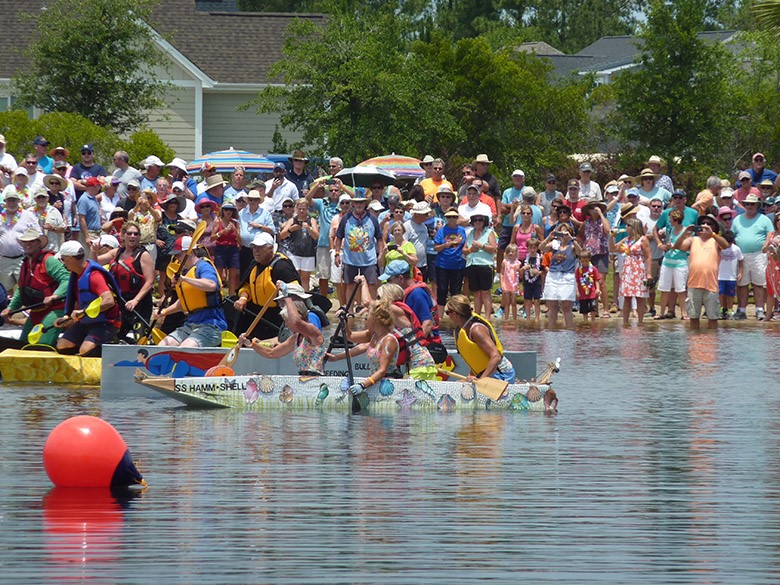 What It's All About
Taking place on Saturday, April 23rd on behalf of and organized by the Fitness and Wellness Center, the Cardboard Boat Regatta will run from 11 am to 2 pm (Race starts at 1 pm). This race will be the ultimate test of neighborly bonds and teamwork. Here's how it works:
Residents representing individual neighborhoods will band together to build a homemade boat using nothing but everyday materials such as glue, tape, and cardboard. Competitors are not allowed to use any industrial-grade tools to build their watercraft. Boats entering the regatta will be less about steel and screws and more focused on sealant and hot glue. No outboard motors are allowed here, just paddles and lots of elbow grease.
The object of the event is for residents to race their homemade boats across Hammock Lake and back again without their vessels falling apart or sinking. This is all part of the fun, however, and we will have a rescue boat on standby for any who might start taking on water! Life jackets will be required, and full safety precautions have been taken to make sure everyone has an amazing time.
A Great Time
Nine boats will be participating this year, and the competition is shaping up to be fierce. In addition, the participants will be judged by none other than Leland Mayor Brenda Bozeman. Live music will be provided by local performer DJ Sherri, and there will also be a food truck along with frozen yogurt to keep you refreshed during the event.
The Cardboard Boat Regatta for 2022 is looking to be a real showstopper for this year, and we encourage all residents and guests to stop by and cheer your fellow neighbors on to victory!