Brunswick Forest Veterinary Hospital Celebrates 12 Years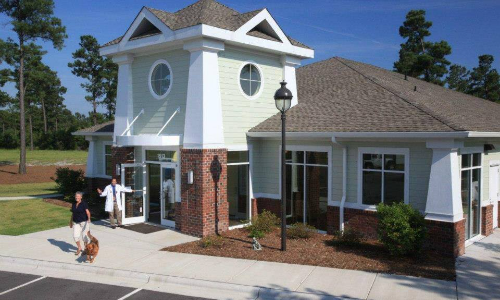 For the 70% of U.S. households that own pets, a house just isn't a home without a furry (or scaly) friend. At Brunswick Forest, where hiking trails and parks abound, you know that your pet is set to live the best coastal lifestyle right alongside you. And just like their human companions, Brunswick Forest pets have easy access to excellent medical care onsite thanks to Brunswick Forest Veterinary Hospital (BFVH). All furry, feathered, and scaly friends welcome. 
Now celebrating its 12th anniversary, BFVH is a state-of-the-art AHA accredited practice offering preventative care, digital radiology, behavior modification, dental prophylaxis, in-house comprehensive lab work, bathing, pet rehabilitation, and more onsite at Brunswick Forest.
Dr. Rich Zielinski, founder of BFVH, attributes this longstanding success to the high level of care that each pet receives at the practice, "We really try to make every client understand that we are treating their pets as if they were one of our own and having as much compassion as possible," he says. 
From a Coastal Dream to State-of-the-Art Veterinary Practice

For Dr. Z, as he's known in Brunswick Forest, BFVH began with the dream of coastal living. Back in the early 1990s, Dr. Z left his home in St. Croix, U.S. Virgin Islands, to attend college. After meeting his wife, he moved to North Carolina, where he earned his Doctorate in Veterinary Medicine from N.C. State.
For the next eight years he practiced as a vet in the Piedmont-Triad area, but his in-laws' home on Holden Beach kept calling to him and his wife. They finally took the plunge and moved to Leland, where Dr. Z and his partner Dr. Patrick Terry opened BFVH. 
"Our biggest achievement has been building our patient base. We started with zero clients and patients and now care for over 8,000 clients and 13,000 patients," Dr. Z says. These numbers reflect years of hard work to build and maintain a reputable, reliable, and caring facility for all pets.
12 Years of Veterinary Innovation
If there's one thing for sure, even after 12 years, BFVH isn't resting on its laurels. Recent innovations to the practice include a new rehabilitation center, Boomerang ARC, which offers cutting edge services in therapeutic laser, hydrotherapy, weight loss, and strength building for overall pain, arthritic, and neurologic management. 
To learn more about the state of the art veterinary services at Brunswick Forest Veterinary Hospital, visit their website. 
Give us a call at 866-832-1141 to explore more ways that you and your furry friends can coastal living at Brunswick Forest or make an appointment online.