BRUNSWICK FOREST REAL ESTATE | THE JAMESON
December 26, 2014
Brunswick Forest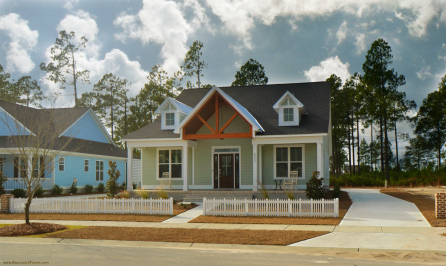 INTRODUCING THE JAMESON
A spacious bungalow with the feel of a small coastal cottage, the Jameson is yet another fine home plan offering from Brunswick Forest! This coastal community offers a wealth of home plan designs, unique neighborhoods, a wide variety of amenities, and a prime location that is convenient to beautiful Wilmington, NC and area beaches.
A SPACIOUS BUNGALOW IN A LOVELY NEIGHBORHOOD
The Jameson is located Brunswick Forest's Shelmore neighborhood, which features neo-traditional bungalows, charming streetscapes, white picket fences and a gorgeous three-acre lake with white sand beach. Step on to the Jameson's wide front porch that opens up to the spacious great room, kitchen and dining area. The home offers plenty of storage with large bedroom closets, great room coat closet, ample pantry, two-car garage and tons of unfinished attic space. With the upstairs loft and optional bonus room with separate staircase, the Jameson is a perfect option for homeowners who are looking to have extra space for family members or guests.
View the Jameson floor plan here.
Take a virtual tour of the Jameson…
888.371.2434
www.BrunswickForest.com