Brunswick Forest: Now Your Clients Can Tour from Anywhere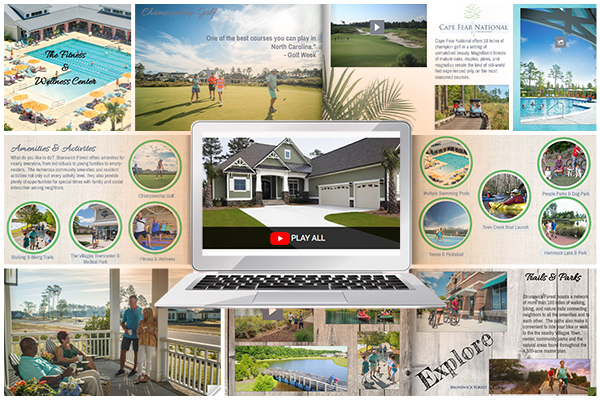 As a broker, you want to make sure your clients have all the resources they need to decide on their dream community. Right now, it is important for your client to get a taste of what a master-planned community is all about before coming to visit in person. Well friends, Brunswick Forest has got your back. From a well-stocked photo gallery, to interactive digital brochures and professional video, your client will have what they need to discover Brunswick Forest.
Brunswick Forest is all about the power of choice. Why? Because that makes the discovery experience for your client easier, and thus making things easier for brokers. At brunswickforest.com, the experience for your client to virtually tour a vast selection of quality model homes from choice builders is seamless. There is no confusion, and no hidden loops to jump through. Just your client taking in everything that makes Brunswick Forest so great, from the comfort of their own home.
Here are some of the ways your clients can tour Brunswick Forest virtually:
Touring Brunswick Forest is Just a Click Away:
As a master planned community that values convenience, there are a lot of ways to tour gorgeous floor plans without having to leave your home. The realty team loves giving your clients more options to get a taste of what their life could be like. Clients can take a real time virtual tour with one of our sales agents from the comfort of their own home. All they need is a smart phone, tablet, or laptop. With a few clicks, your clients will be able to put themselves at the center of the action and decide which home could be their dream residence.
Spring Home Showcase Brochure:
If you are looking for an easy way your clients can view some of the best floor plans in the Southeast, look no further than Brunswick Forest's Summer Home Showcase. It is a handy resource that stays updated with Brunswick Forest's complete move in ready inventory. It lists each individual model home, features what neighborhood they are located in, and even the builder behind it. This makes it so your client has everything they need to know right in front of them.
Coastal By Nature® Brochure and Community Album:
Imagine all the utility of a brochure, complete with colors and intricate photos, but with the bonus of being able to flip through it online. Local events and points of interest are listed here, giving your client an idea of what they can engage in while living at Brunswick Forest. It is a great way for your client to be introduced to Brunswick Forest and the surrounding area before they visit. The Brunswick Forest Community Album highlights how the Brunswick Forest lifestyle is unique compared to other communities. Resident testimonials, amenities, nearby locations, and neighborhood walk-throughs are also here for their viewing pleasure.
Virtual Touring Videos:
Here is where the real advantage comes into play for your client! If they are looking to tour some of the most marvelous floor plans around, they can do so with ease. The virtual Homes to Tour videos, which can also be found on Brunswick Forest's Facebook and YouTube pages, put your client in a first-person perspective model walk through. They will get a taste of some of Brunswick Forest's best floor plans, see the quality that each builder puts into each model, and decide which one could be the dream home they have always wanted! This is a great resource to help you educate your clients and give them an idea of what they want before visiting Brunswick Forest. It is just another amazing tool that makes the discovery process even easier for them.
Whether your clients choose to flip through a brochure or watch a video on social media, there are lots of unique options for brokers to give interested buyers the best experience possible. They can also view more media on their gallery page. Next time you have a client who wants to know more about Brunswick Forest, lead them to our virtual resources! Or, you can contact the team directly at: 855.983.9579