Brunswick Forest: It's an Easy Sell!
October 9, 2019
ISWebmaster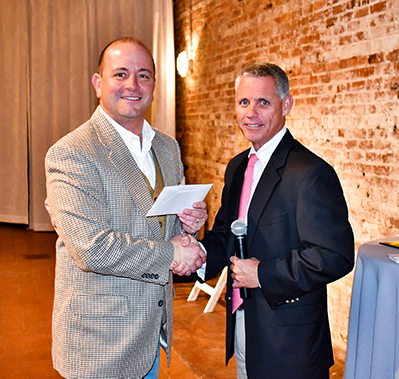 Brunswick Forest is more than just another master-planned community, it's a massive opportunity for self-betterment! With a host of amenities like pickleball, tennis, championship golf, saltwater pools, a staffed Fitness Center and miles of walking trails, it's become the go-to choice for potential homeowners looking to move to coastal Carolina.
John Burgee is a local agent who has worked in the real estate industry for 25 years. He's a lacrosse coach, husband and fantastic father of three! John also focuses on real estate listings and performing as a buyer's agent in both New Hanover and Brunswick County. His knowledge is extensive, and he has worked with the sales team at Brunswick Forest quite often. The experience his clients have felt while working with Brunswick Forest has been nothing short of pleasant: "There's a lot to love about the community at Brunswick Forest! It is in close proximity to downtown Wilmington, more so than other planned communities in the area. Brunswick Forest is also close to great shopping, dining and music," John states.
The number one quality that John attributes to Brunswick Forest being a stand-out community, and a great place to sell, is the convenience it offers potential residents. Brunswick Forest has miles of interconnected walking trails that allow for easy access to goods, services and other necessities. "While Brunswick Forest is great because of its proximity to Wilmington, the community also has everything it needs right at the entrance with The Villages Town Center. There's a Lowes Foods, CVS Pharmacy, medical services and great places to eat, all close together. This really makes Brunswick Forest stand out from other planned communities."
When it comes to treating brokers and their clients right, the helpful sales team at Brunswick Forest always does their best to exceed expectations! John mentions how his personal experience working with Brunswick Forest is always enjoyable. "The team at Brunswick Forest absolutely loves broker assistance," John adds.
Potential residents aren't the only ones who receive the royal treatment at Brunswick Forest, as the sales team will often hold special Broker Caravan events to help brokers familiarize themselves with all the community has to offer. John states that he himself has been to many of these galas, and always finds them informative. "Buyers can tell when their agent really knows their inventory. The Broker Galas at Brunswick Forest help to make me and other brokers feel prepared, and they also make things easier for our buyers."
Brokers have found that their clients experience love at first sight when they visit Brunswick Forest. Thanks to its ideal location, convenience for residents, and wealth of amenities, Brunswick Forest is a community that pretty much sells itself!