BRUNSWICK FOREST EASTER EVENTS
April 17, 2014
Brunswick Forest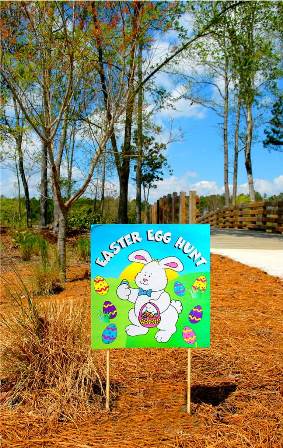 Spring is in full bloom at Brunswick Forest this Easter season offering residents beautiful North Carolina weather and fun events for this special weekend!
Kickoff your Easter Weekend on Saturday April 19th at the Brunswick Forest resident sponsored Easter Eggstravaganza at Annsdale Park! This Easter Egg Hunt will begin promptly at 11:15 am! Bring a picnic and chairs and enjoy a beautiful Saturday with friends and neighbors! And kids, don't forget to bring your favorite basket to fill!
Then on Sunday, April 20th, hop on over to The Forest at Cape Fear National for a spectacular and equally delicious Easter Brunch! There will be seating's for brunch at 10:30 am and 1:00 pm with a scrumptious menu for adults and kids that includes all of your breakfast favorites! After each brunch there will also be an Easter Egg Hunt at 11:30 am and 2:00 pm so stick around to join in all of the fun!
For more information about these events contact the Fitness & Wellness Center at 910.342.2215.