BRUNSWICK FOREST AND WILMINGTON, NC MAKE THE PERFECT COUPLE!
June 28, 2012
Brunswick Forest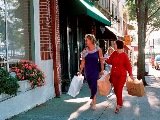 Centrally located less than 10 minutes from historic downtown Wilmington and 15 minutes to everything else, Brunswick Forest is that "just-right" coastal community you've been looking for!
Residents of Brunswick Forest enjoy the perks of living close to one of the South's most picturesque and charming port cities. The Wilmington area has it all…history, shopping, museums, aquariums, great local restaurants, and even horse-drawn carriage rides! There are always things to do no matter what the season. Spring blooms with our beloved Azalea Festival. Summer offers up time to catch a tan or one of the Brunswick Forest Summer Concerts. Fall ushers in great weather for golfing and enjoying the area's numerous festivals.  Best of all, winter is as mild as can be allowing you to run your holiday errands without breaking a sweat!
No matter what your passion Wilmington is sure to offer you something to enjoy.  Food and wine enthusiasts, have a variety of options from wine bars with tapas eats to vivacious Latin cuisine! If you are more of a history buff, then the U.S.S North Carolina Battleship memorial and the tour of "Old Wilmington" are sure to keep your interest! Thailan Hall, Bellamy Mansion, Cameron Art Museum, and The Children's Museum will delight anyone's imagination. Outdoor activities are abundant as well, enjoy the sights of the bright and beautiful Airlie Gardens; stroll the Riverwalk; or tryout paddle boarding through winding marshlands of the Intracoastal Waterway!
Whatever your pleasure Brunswick Forest and the Wilmington area are sure to have it.  They really do make the best couple!  Come visit us soon!
888.371.2434