Brunswick Forest Agent Spotlight: Denis Symington
September 27, 2019
ISWebmaster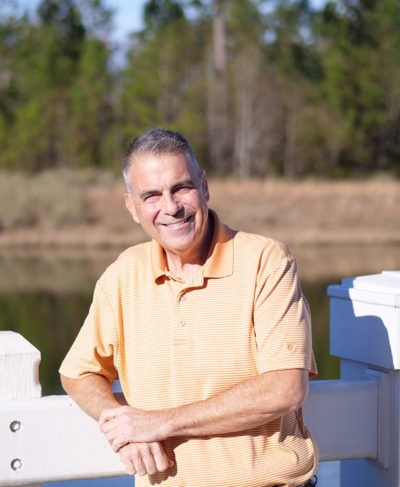 Southeastern North Carolina and the greater Wilmington area become more desirable by the day. It's steeped in history, friendly Southern culture and has a desirable climate. For sales executive Denis Symington, talking about the perks of living at Brunswick Forest is more than just his job; it's a passion that means a lot to him.
Everyone who has made their way to Brunswick Forest has their own unique story on what attracted them to the area. For agent Denis Symington, there's a story unlike most. Denis is originally from New York but spent a great deal of time across the Atlantic Ocean in Europe! "I worked for fifteen years in London and Moscow in Information Technology. One day I was given an opportunity to come back to the United States and engage in real estate. So, I took the opportunity and made my way down South to the coastal Carolinas," Denis tells us.
Denis is no stranger to the Brunswick Forest way of life, as he's been a part of the real estate team since the very beginning! "I remember becoming part of the team when Brunswick Forest was just under development. I've been at this amazing community for twelve years. When I first learned of the builds going on here at Brunswick Forest, as well as the prime location, I knew this was what people would be looking for. I had to be a part of it," Denis exclaims proudly.
Aspiring residents who talk to Denis, feel like they're getting an inside perspective on what Brunswick Forest is about. His genuine demeanor helps to place people's minds at ease. Current residents will often approach Denis and his clients while they're on a tour and personally relay how much they love the community in Brunswick Forest. "The sense of community people feel from living here is incredible. Everyone is always looking out for one another and making people feel welcome. It helps potential residents with the moving process and ensures that they will have a lot of friends and activities to engage in."
What Denis finds most unique about Brunswick Forest, is its location and all the convenience that's offered. "There is so much diversity here at Brunswick Forest. You can play golf, explore Wilmington, shop, dine and so on. There's just so much to do and a great environment to enjoy it in! When I meet new people at the shows, I always do my best to convey that to them!" If Denis' passion for our community isn't apparent enough, he concluded by saying, "I work for a great community. I've lived all over the world, but Wilmington will forever be my home."
You can reach Denis and the top notch team of sales executives by the following phone numbers or email: 866-831-8382, 910-371-2434 or info@BrunswickForest.com