Brunswick Forest Adds New Handicap Accessible Upgrades to Fitness & Wellness Center
September 1, 2018
Beth Burgee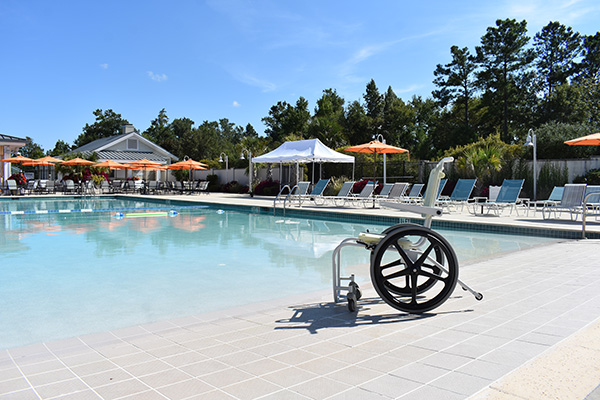 Ensuring that all of our residents and their guests have access to our amenities is very important to us at Brunswick Forest. We are fully ADA compliant throughout our community, however we have recently taken our accessibility a step further by installing several additions to our Fitness & Wellness Center that will make access for our residents with disabilities even easier.
Installed in early August, the new additions are now available to Brunswick Forest residents and their guests. The most utilized addition to the Fitness & Wellness Center is a handicap door push button at the entrance of the 18,000 square-foot facility. This button allows those entering the building to simply press the 4″ button for the automatic door to open. Additional features include a chairlift for the indoor pool and a pool access wheelchair for the outdoor pool.
Fitness & Wellness Center staff has been trained on how to operate the chair lift for the indoor pool. The outdoor wheelchair is stored in a locked closet, so please inform front desk staff if you'd like to use the new equipment.
21548
false
false
true
false
true
true
false
auto
false
ease-in-out
300
false
0
true
false
%curr% of %total%
www.BrunswickForest.com
866-831-8289