BIRD ISLAND KINDRED SPIRIT BOX
March 29, 2016
Brunswick Forest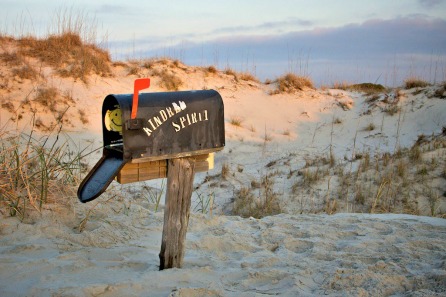 It can be argued that the beaches of Southeastern North Carolina hold as many treasures today as they did in the time when pirates sailed the pristine waters off of the coast. For more than 100,000 visitors to nearby Sunset Beach, one of these hidden treasures is the Bird Island Kindred Spirit Box, which has served as a mecca for locals and tourists alike for decades. Brunswick Forest residents can count themselves lucky to live just a short drive away from this unique local treasure.
A COMMUNITY MAILBOX
The Kindred Spirt Box is a mailbox posted about a mile and half from the Sunset Beach pier where inside visitors will find notebooks and pens available for them to write down their innermost thoughts, messages for loved ones, or prayers and hopes for the future. The box was started by a local resident and his girlfriend who had a vision of a mailbox in the sand but did not know why. Today, their vision has turned in to a sanctuary for many.
LOCAL ARCHIVE
Past notebooks from the Kindred Spirit Box are held at UNCW's Archive Library where you can page through thousands of entries from visitors all over the world. Today, the mailbox is maintained by a group of volunteers who regularly replace the notebooks and repair the box and American flag that marks its location.
888.371.2434
www.BrunswickForest.com